Course overview
Study at Teesside University International Business School
See what it's like to study at our modern, enterprising and dynamic business school
You gain skills in management and enterprise combined with the study of accounting and finance, financial crime and global economy and financial markets. This programme will appeal to those seeking to pursue a career in the financial services sector including economics, accounting and management in both the commercial and public sectors.
This course provides clear links between theory and practice and places discussion of relevant management techniques and themes in the context of the international stage. You gain specialist knowledge of the global economy, financial reporting requirements and financial management in a global marketplace and gain insight into the process of detecting and preventing financial crime.This course equips you with the skills and knowledge for a higher-level career in business management, and allows you to develop employability skills and UK experience to further enhance your employability. It provides clear links between theory and international business practice, and places discussion of relevant management techniques and themes in the context of the international stage. It focuses on areas such as global decision-making within operations and finance, global economics and cultural issues within management in an international environment. The work-based module in your second year provides access to an organisation to enable you to put into practice these skills and gain valuable experience of working within a UK-based organisation.The programme concludes with the dissertation, which provides the opportunity for you to carry out a major international business project. It provides a basis for students from business or other disciplines looking for management careers but who do not yet have significant management experience. It equips you with:
knowledge and understanding of the global influences on business and an ability to analyse management decisions in an international setting
an understanding of recent advances in management theory, research and practice.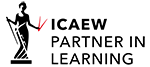 Recognised as an Institute of Chartered Accountants in England and Wales (ICAEW) Partner in Learning, working with ICAEW in the professional development of students.

Study this course and you may be eligible for a £2,500 Sir Keith Skeoch postgraduate scholarship.
Course details
You develop your understanding of strategy and management alongside cross-cultural and international aspects of business. You reflect on the main functional areas of international business and integrate theoretical knowledge with practical enterprise skills in a global context as well as developing strategic thinking in accountancy.
Course structure
Core modules
Advanced practice develops you experience and allows you to gain real-world practical experience to enhance your employability and learning. You receive preparatory sessions so you can apply for internships which normally include research or project-based, opportunities, employer-led, work based opportunities. Work based internships with external organisations based offsite. You explore advanced practice opportunities to enhance your skill set and meet aspirations, related to your course. You are assessed through a reflective assessment equivalent to 3,000 words marked on a pass/fail basis. This module does not count towards the overall classification of the degree.

Core Concepts in Accounting and Finance
This module introduces essential accounting and finance concepts and principles for master's level students to afford an appreciation of the nature of financial information, the identification of relevant economic events, the determination of the most appropriate financial measures for those events, and the analysis of the effects of those events on the performance and financial standing of an organisation. You are assessed via a case study-based examination


You will integrate your learning and development and synthesise knowledge and understanding of theory and practice through its application to organisational issues, which are demonstrably concerned with development within the organisation. You are supported throughout the process by a supervising tutor who will monitor progress and ensure that you are appraised of your on-going performance. Usually the dissertation should be completed within one year.
This module provides a theoretical and practical insight into a range of financial management techniques. It examines the means by which financial information is used to inform the effective management of an organisation, including decision making and control, performance management and, investment management. The module also considers associated managerial behaviours and the relevance of issues such as risk management and environmental impact. You are is assessed by a combination of a report and by an examination


Global Business Environment: Culture, Management and the Economy
This module explores concepts and techniques in financial reporting, governance and professional ethics, and then moves to develop a critical understanding of the theoretical issues associated with the subject and the relevant skills associated with work issues in the area. You are assessed by a combination of a written essay and an end examination.


Managing in a Challenging Environment
You develop a systematic understanding of the nature of organisations and how they function and a critical awareness of the current challenges facing contemporary organisations. You are encouraged to critically reflect on the leadership skills and values required to better support organisations through the difficult challenges they may encounter.
Postgraduate Business Research Methods
This module develops your awareness and understanding of the factors that impact research design for business and management students. You explore the ethical principles underpinning business research, research methodologies, data type, collection and analysis, research methods and how to present a research proposal and dissertation.
Become more self-reflective and develop self-leadership skills to guide your future career. You develop a creative and entrepreneurial approach to leadership, with a focus on global sustainability – essential to navigating the challenges of a fast-paced 21st century organisation.
Modules offered may vary.
How you learn
This programme enables you to develop a comprehensive knowledge and understanding of international management and broad accountancy themes as well as a range of practical, professional and key transferable skills.
Interactive classroom sessions deliver the relevant subject knowledge and allow you to explore and apply theory to real examples.
You engage in group work, class debate, employer projects, case studies analysis and research.
The dissertation requires the use of a range of cognitive and intellectual skills and you need to demonstrate the ability to produce a substantial piece of self-directed work.
How you are assessed
The assessment strategy has been designed to assess your subject-specific knowledge, cognitive and intellectual skills and transferable skills applicable to the workplace. The strategy ensures that you are provided with opportunities for feedback to assess your learning and guide you with the final assessments for each module.

The assessments include assignments, business reports, case studies, presentations, a research proposal and literature review, and the production of a dissertation. The assessments may include individual or group essays or reports.

Entry requirements
The normal entry requirement is one of the following:
an honours degree (at least a 2:2)
a post-experience or professional qualification
equivalent qualifications (including international qualifications).
for EU and international students, an IELTS score (or equivalent) of 6.
For general information please see our overview of entry requirements
International applicants can find out what qualifications they need by visiting Your Country
Employability
Career opportunities
You graduate with the knowledge, experience and confidence to succeed in a management role on a global scale. You acquire a unique mix of skills to work in roles including global strategic management, leadership and management, strategic marketing management, managing people, operations, and finance, or you could even strike out in business on your own. By specialising in accountancy you could also secure roles in financial management, financial crime and governance and accountability.
Information for international applicants
Qualifications
International applicants - find out what qualifications you need by selecting your country below.
Select your country:
Useful information
Visit our international pages for useful information for non-UK students and applicants.
Talk to us