Virtual reality and immersive technologies
Immersive technology is transforming the world around us and will become a significant part of our everyday lives. Find out how you can transform your business.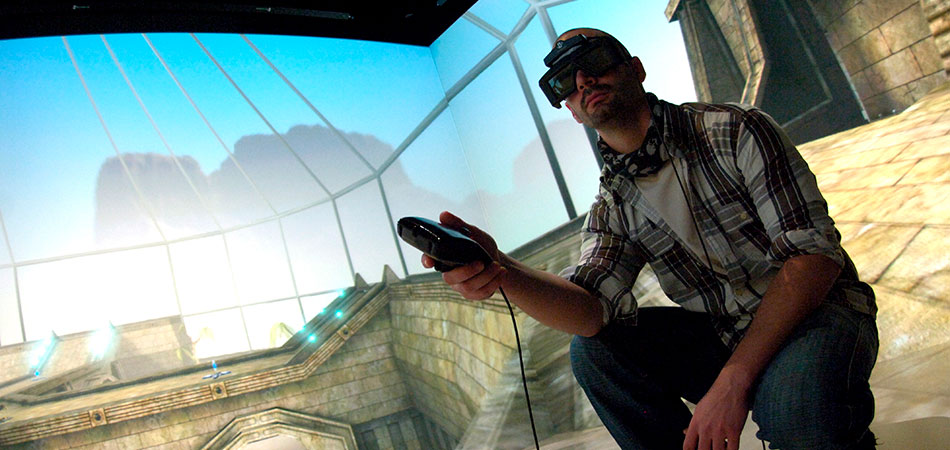 Virtual Reality (VR), augmented reality (AR), mixed reality (MR) and 360-degree videos are technologies that will gradually become part of everyday business activities from recruitment and training, to project management and marketing and advertising.
The transport, engineering, education, retail and healthcare sectors are already using immersive technologies. But what exactly are they and how can your organisation embrace them to help improve productivity, advance user experiences and drive innovation?
How can our expertise help your organisation?
We work with private and public sector organisations, delivering solutions for innovative training and improved user experiences to grow new audiences, increase productivity and lower cost.
With one of the best equipped computing schools in the country our team are all experts in their fields with industry and cutting–edge research experience.
Consultancy
Work collaboratively with our experts to develop projects, design and test products and/or research and evaluate your processes, technologies or projects in development.
Collaborative research
Our specialist academic staff can collaborate with you on cutting-edge research in areas including data-driven AI, software and systems, cyber security, computer games and immersive technologies, animation, media and fine art. We can also help you identify external funding opportunities.
Training
We can work with you and your team to create bespoke, specialist courses in all aspects of immersive technologies, or accredit your in-house courses.
Proof of concept work
Together we can work with you to develop a proof of concept for new products or services to test an idea before transferring the knowledge into your organisation.
Talk to us today
---
Research groups:
Games, Animation, Media & Art Research Group
Machine Intelligence Research Group
---
Industrial Strategy Challenge Fund:
Clean Growth
Ageing Society
AI & Data Economy