Innovative new app will help preserve crime scene evidence
A pioneering new app, Crime Scene Assistant, has been developed by two former Crime Scene Investigators (CSIs), and is helping first responders to preserve vital evidence when they arrive at an incident.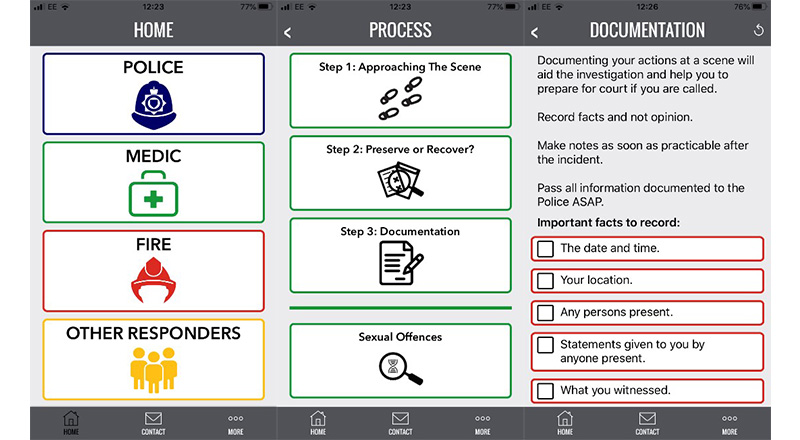 The app is the first product to be offered through Crime Scene Assist Ltd, the new digital sister company of Teesside business CSI Training and Events and aims to 'Make Forensic Awareness Second Nature for First Responders'.
Both companies were founded by Teesside University graduates Angela Davies and Dionne Watson, who decided to move into the digital arena last year. Crime Scene Assist Ltd will also offer online training services.
Crime Scene Assistant, which officially launched on June 12, is now available on iOS and Android platforms. It acts as an aide-memoire and training tool for anyone who has the potential to be the first in attendance at a crime scene. This includes police officers, firefighters, paramedics, search and rescue teams, pest controllers, dog walkers and many more. It is also a valuable tool for students in the forensic and first responder fields.
It offers best practice advice to approaching, preserving, and working within a crime scene and is presented in an easy step-by-step guide, with useful checklists, which help with statement writing and court presentation later.
Initial tests of the app have proved overwhelmingly positive with 90% of users saying they would recommend it to friends and colleagues.
Angela said: 'Although we founded Crime Scene Assist last year, we've been kept busy with the training and events side of things.
'However, the Covid-19 pandemic has allowed us to refocus our efforts on the digital business and so we're delighted to have been able to launch this app.'
Dionne added: 'In the UK, frontline responders such as paramedics, do not receive any forensic awareness training, despite often being the first in attendance at a crime scene.
'The feedback that we've had from testing has said there is a real need for advice and guidance for first responders, so it's fantastic to be able to help meet this demand.' Crime Scene Assist has been supported by Teesside Launchpad, Teesside University's business incubator. Last year, it was announced that the university's Middlesbrough campus was to become a £5.6million University Enterprise Zone (UEZ).
Steve Dougan, Head of Enterprise at Teesside University, said: 'A key aim of the UEZ is to help new entrepreneurs and established companies in the Tees Valley grow through digital innovation.
'Therefore, it's great to see a new company like Crime Scene Assist emerge to provide technological solutions to meet industry demand.
'We're very proud to have been able to provide the support for Angela and Dionne to grow their business and look forward to their continued success.'
---