Beverley Boden
In 2020, Teesside University became the first Adobe Creative Campus in Europe, joining a select group of colleges and universities that are driving the future of digital literacy within the global higher education community.
Beverley Boden, Head of Department (Finance, Performance & Marketing) at Teesside University International Business School, shares how she has used Adobe Creative Cloud to enhance her teaching methods and boost the experience of her business management students.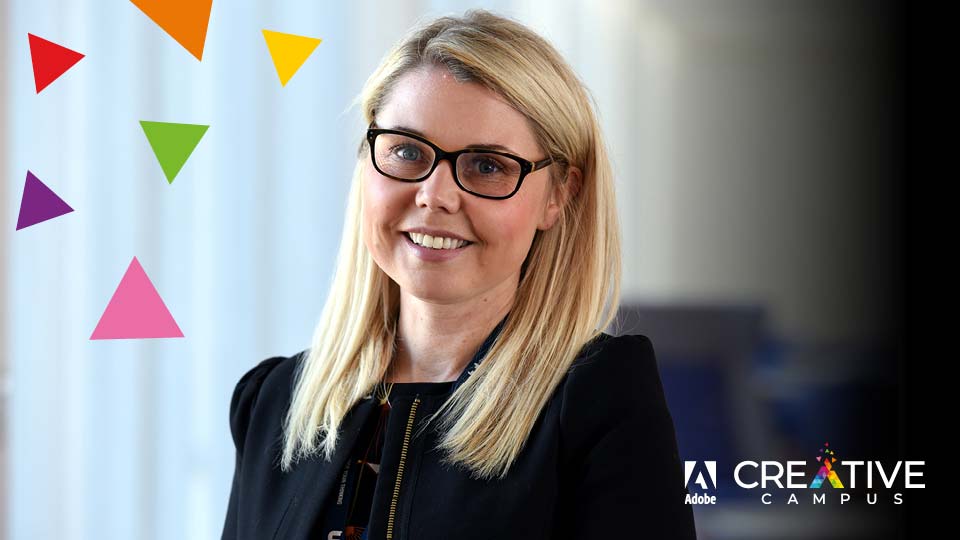 By incorporating Adobe technology into our teaching, we have found innovative ways to combine creativity, bring theory to life and develop students' digital toolkit.
Which Adobe Creative Cloud apps have been most useful in your teaching?
I mostly use Adobe Spark, which is a media suite of creative applications that can be used for pages, videos, and posts. I use Spark to prepare presentations, slideshows, photo collages, and to create social media posts. In terms of social media, I have found that Spark has given me an opportunity to be innovative as I can now turn my ideas into engaging and memorable content.
My presentations, created using Adobe Spark, have increased our BA (Hons) Business Management, and BA (Hons) Airline and Airport Management students' engagement in the course content, in terms of asking questions and creating opportunities for lively group discussion. I understand the power of visual assets in teaching and have found that my Spark presentations have helped my students to soak up chunks of course content quickly.
Has the use of Adobe Creative Cloud changed your teaching style?
Yes, I have found that using Adobe Spark has superseded the use of PowerPoint for presentations, which has led to curiosity about Adobe Creative Cloud apps from my students. The ability to embed videos, images and quotes into slideshows has modernised our course content and created interactive online experiences.
As part of the Contemporary Issues in Business Management module, students used Spark for their assessed presentations, leading to praise from examiners for their professionally narrated and engaging content.
Do you think students have benefitted from the changes in your teaching?
Using Adobe Spark for presentations has meant a reduction in the content displayed on slideshows, a shift from the former PowerPoint style, and has led to deeper focus on the content, and the ability to retain key information.
Students are now aware that effective visuals can transform the way messaging can impact an audience and reinforce key information. It has also promoted the use of unconventional modern tools which students may not have considered previously.
How have your students been using Adobe Creative Cloud?
They have been accessing the Adobe Stock collection of images which contains free photos, vectors, illustrations, videos, design templates, motion graphics templates, and 3D assets. By using this collection, my students have also learnt about copyright and licensing issues.
By using Spark for creative presentations, students have learnt how to accurately reference slides, review journals and to outline feedback on a range of business topics.
Will experience of using Adobe Creative Cloud help your students when they enter the workplace?
Absolutely - many employers require presentations as part of their recruitment process, such as elevator pitches to promote products and services. Our students are now equipped with a digital toolkit to help them stand out from the crowd, and project confidence to a wide range of audiences.