Our staff
Learn from them, work with them
They're expert, dedicated and supportive - providing guidance, advice and discussion.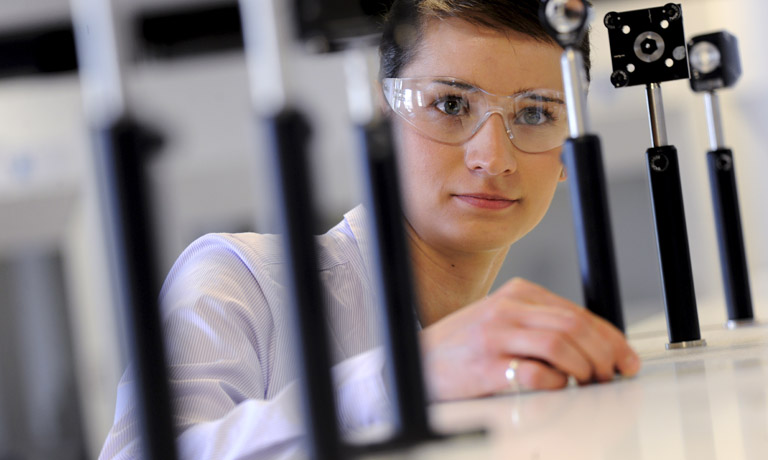 Many of our teaching staff have relevant industrial or professional experience. Their close links with industry keep their teaching up to date - supervising placement students, consulting, developing spin-off businesses.
Be inspired. Our research institutes focus our research excellence in key areas including virtual environments, rehabilitation, nanotechnology, history and sociology.
Learn from staff who carry out research - it puts their teaching at the leading edge of their subject.
First class
The Quality Assurance Agency for Higher Education (QAA) gave us top marks in our 2009 review of academic standards for the quality of learning opportunities we provide students.
Highlights
Professor Maria Olea is developing new catalytic processes for sustainable technologies with three PhD students. 'Nature is amazing and beautiful, we must use advanced technology to eliminate pollution and to protect our environment.'
More about Professor Olea's work
Dr Tim Thompson, senior lecturer in crime scene science and digital forensics, is developing appropriate protocols for scanning bones into 3D models.
More about Dr Thompson's work
Professor Nigel Copsey and Dr Matthew Feldman are internationally renowned experts in historical and contemporary manifestations of fascism and antifascism.
More Professor Nigel Copsey's work
More Dr Matthew Feldman's work
Professor Georgios Antonopoulos conducts ground-breaking international research in illegal migration and markets. He is working on a new major European research programme exploring the mechanisms, structures and approaches used in financing organised crime.
More about Professor Antonopoulos' work
Professor Denis Martin is developing a 'pain garden' website using the concept of gardening to illustrate more complex concepts about pain. 'Figures suggest that up to 50% of older people have their quality of life reduced because they are living with pain that could be better managed. As a researcher, I'm trying to find out more about this and develop and deliver ways of improving how they can manage their pain.'
More about Professor Martin's work
More about the pain garden
Professor Nashwan Dawood is a world leading authority on construction research and innovation and he is always looking for new ways to improve how things work on building sites.
More about Professor Dawood's work
Professor Janet Shucksmith and Dr Paul Crawshaw lead a new regional group to ask challenging and difficult questions of current health policies and practices.
More about their work
Siobhan Fenton, a senior lecturer in animation is helping to put a little talked about topic in the spotlight. She is producing an animated documentary Centrefold, which takes an innovative view of female genital cosmetic surgery.
More about Siobhan's work