Student views
Pete Ellis
Pete's career path has led him to his dream of working as a games designer in California
MA Computer Games Art
Teesside University helped me get closer to my goals – from aspiring to work in the games industry to securing my first job.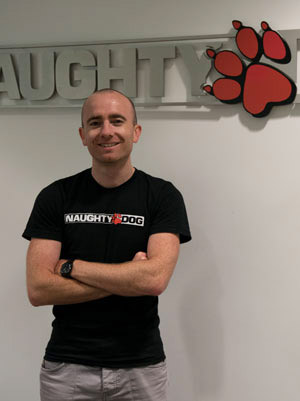 What brought you to study at Teesside University?
I found Teesside in the UCAS list of courses, and immediately wanted to find out more because Computer Games Design was exactly what I wanted to do. At the time, a few universities offered animation, but no other UK university did games design.
I came to the university's open day and I was impressed to see a lot of the lecturers were from the games industry and that they were focusing on teaching the 3D tools I knew I needed to get a job.

What was your course like?
My undergraduate course focused on games art and 3D character animation. I enjoyed my course so much that I progressed onto my master's - this allowed me to focus my attention and portfolio on games design and level layout a lot more. I particularly enjoyed studying level creation in a 3D game engine and getting my classmates to playtest my levels.
What was the best thing about your course?
The best thing about the course was using an industry standard game engine called Unreal Engine. With this technology we were able to make the creative aspect of designing our own game levels, logic, and custom content, as well as learning the processes for game development which are used in the games industry in a professional environment.
I enjoyed 3D Content Creation for Games too, it focused on creating not only 3D objects to put into a 3D game engine but it also looked at level design and game creation. I used Unreal Engine to create a fully working level for a game that not only could be used as a playable portfolio piece, but also allowed me to learn about sculpting level layouts for encouraging player behaviour, scripting game logic and dramatic events, and optimization for solid frame rate performance, which are needed for creating modern games in the industry.

What was your social life like when you were studying at Teesside University?
It was superb. The year I started my degree the Students' Union was named the UK's Students' Union of the Year so there was plenty going on. There were also a lot of clubs and activities, I joined the kick boxing club and the snowboarding society and a few others.
What have you done since graduating and what are you doing now?
Within two weeks of graduating, I started working as a graduate designer at Frontier Developments in Cambridge, I then moved to Sony Cambridge to work on Killzone Mercenary for the PlayStation Vita. I worked there for over six years, also working on Killzone: Shadow Fall, a release title for the PlayStation 4.
My master's dissertation really helped me in my career when virtual reality became a mainstream form of entertainment. I looked at a concept called Presence, which is a psychological immersion where the user is immersed and engrossed in a virtual environment. With the release of PlayStation VR headset, and other headsets, I could use my knowledge on Presence within a professional environment to help sculpt the VR game I was working on – RIGS: Mechanized Combat League.
I then got the opportunity to work as a games designer for the company I'd always aspired to join – Naughty Dog in California working on the highly anticipated The Last of Us Part II for the PlayStation 4.
Teesside University helped me get closer to my goals – from aspiring to work in the games industry to securing my first job. This was achieved by developing a strong portfolio of work at university that I could demonstrate to prospective employers.