Student views
Nick Flanagan
Physiotherapy student Nick was awarded Sports Therapist of the Year.
MSc Physiotherapy
'Rehabilitation and therapy gives me the opportunity to make a difference to people's lives.'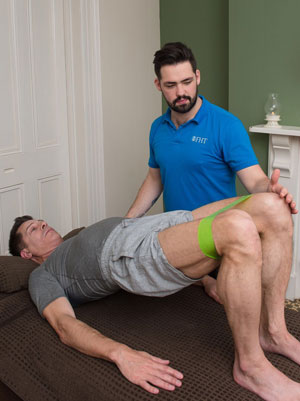 Tell us a bit about yourself
I'm a positive person with a passion for helping people manage or overcome all kinds of discomfort, dysfunction and disability. Rehabilitation and therapy gives me the opportunity to make a difference to people's lives – job satisfaction at its finest.
Last year I was awarded Sport Therapist of the Year by the President of the Federation of Holistic Therapists for my work in understanding the experience of receiving manual therapy interventions for people living with HIV. I'm passionate about advancing my knowledge and practice in the emerging area of physiotherapy in HIV rehabilitation.
What's your experience of Teesside University?
I have had an excellent experience I received my undergraduate degree and will soon hopefully receive my MSc Physiotherapy degree too. It is a great place to develop both personally and professionally.

The faculty staff are knowledgeable, the facilities are modern and I have found the lecturers to be engaging and encouraging. Last year when I had some issues at home, I found myself stressed and concerned about completing my work in the set time frame. I spoke to the lecturers who were very empathetic and supportive; they were able to give me options to relieve some of the pressure and stress, and continued to support me through my exams (which I passed – yay).

I'm currently developing an abstract to be submitted to the 4th International Forum on HIV and Rehabilitation Research and Intersectoral Policy Dialogue, Advancing Research, Policy and Practice for Healthy Ageing. I'm hoping to find funding to allow me to travel to Toronto, Ontario and represent Teesside University on a global stage.
Any tips for other students?
If I could offer one tip for prospective and new students it would be to make the most of your time. Make the most of any extra-curricular opportunities that come your way, don't be afraid to put yourself forward and strive for the big goals, the ones that seem almost out of reach. You can do it and the University has got your back. I have no hesitation in recommending Teesside University and all of its many assets.