Student views
Jordan Grimmer
Jordan's time at Teesside has led to a career in the games industry.
MA Concept Art for Games and Animation
The thing I loved most about my time on the course was how I was able to really concentrate on developing the skills that I felt would help me progress into a future career.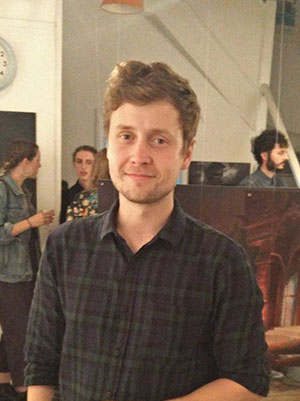 Why Teesside?
I came to Teesside after finding the course through searching online. I saw that it was one of the only places in the UK offering a course of this kind at postgraduate level so I was immediately interested. I ordered a prospectus and decided from there to apply.
What was your course like?
The course allowed me to explore a number of areas of video game concept art that I hadn't touched on before while giving me the time to focus on my strengths and build on them. We were given tasks that helped us get used to industry-style briefs with a lot of the art teaching based on traditional values. The input we had from industry professionals who came in to talk to us definitely helped me refine my own way of creating art. We covered elements of character, environment and prop design, all areas that I wanted to improve, and I left the course feeling like I had done just that.

The thing I loved most about my time on the course was how I was able to really concentrate on developing the skills that I felt would help me progress into a future career. I can't really understate how useful the industry briefs set by the visiting experts were. Having actual first hand feedback from people in the industry you're trying to break into was invaluable.

What was your favourite module?
My favourite module was my final project as I was allowed the freedom to develop my learning of environmental and character design at my pace and on a topic that I loved. I was able to package everything I had learned over the year into a project that showed how much I had improved from when I joined. The campus itself was always a calm and relaxed place to work too. In the last few months of the year I spent pretty much every day in the postgraduate IT suite working and sketching and I'm pretty sure it was having these facilities at hand that allowed me the time and space to improve.
What was your social life like?
I'm a sociable guy and I was housed with people who were the same so we always had a good time together. The accommodation was incredibly close to the university so this was a huge plus for me. I made some firm friends while living with my housemates and I still speak to them often today.
My course mates were similar and we often went out to the SU if there was an event on or to the pubs and clubs in the area on nights out. Middlesbrough has a surprisingly good nightlife to it and I tried to make the most of it when I could. When I wasn't doing that I tried to go along to the life drawing sessions that the university put on.

What have you done since graduating?
Once I left Teesside I immediately started to work as a freelance concept artist and illustrator while I began to apply for studio positions at video game companies. I successfully secured a job at a studio in Dundee and from there I have stayed in the game industry as an artist for the past 4 years. Right now I'm working at a mobile games company in London as a 2D game artist and I'm loving every moment of it.
Did your time at Teesside University help you to achieve your goals?
Without the time, resources and teaching that I received I don't think I would have secured my first and subsequent jobs in the games industry. The course allowed me to grow and develop the art skills that I set out to focus on when I first joined the university. It taught me what to expect when I entered the industry and, overall, it was an experience that changed the way I made my artwork. That's pretty much what I wanted.