Apple Distinguished School
We're pleased to be recognised as an Apple Distinguished School for 2021-2024 for our pioneering commitment to digital teaching and learning.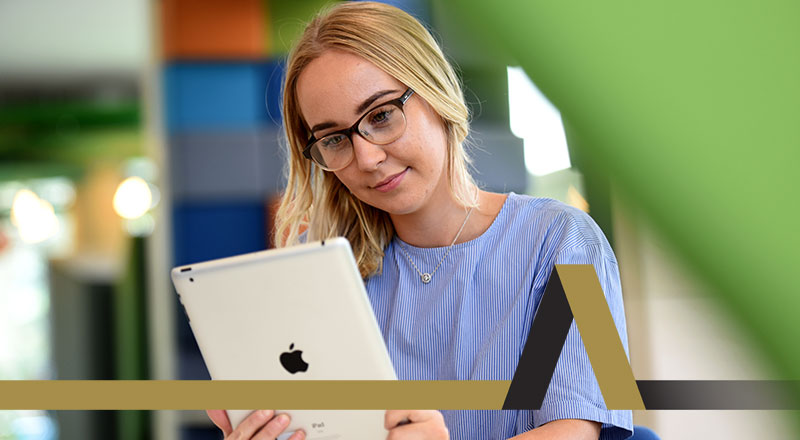 Selection as an Apple Distinguished School highlights our success in creating an innovative and compelling learning environment that engages students and provides tangible evidence of academic achievement.
Our story
Teesside University is an anchor institution with a strong social mission; to transform lives and economies. With strengths in digital and creative industries, science, engineering, business, enterprise and public sector workforce development, Teesside University makes a significant contribution to the economic, social and cultural context of the region, whilst operating on a global scale. The diversity of the student community, comprising international students from over 100 countries, alongside a majority commuter student population, places real significance on digital empowerment and transformation, with the Future Facing Learning approach key to the future success of not simply graduates, but the wider communities that Teesside University serves.
Vision
In 2017 Teesside University took an ambitious and courageous decision, led by the Pro Vice Chancellor (Learning and Teaching), to make an institutional commitment to 21st century teaching excellence through prioritising the digital empowerment of staff and students. We harness the power of Apple technologies to enable engagement with creative learning anytime and anywhere. We call this Future Facing Learning (FFL). FFL has transformed not just the student experience; it has galvanised infrastructure improvements, challenged teaching staff to become increasingly innovative and acted as a leveller for student success. This is an institutional initiative, delivered at scale; almost 10,000 iPads have been distributed to students and teaching staff have completed a mandatory Digital Development Programme.
FFL places digital empowerment within and beyond the classroom. Apple Technology is integral to student life at Teesside University. Significant investment has enhanced the learning environment, including the creation of an experimental future-facing classroom experience. A Digital Life support team has been created, augmented by partnerships with Apple Professional Learning Specialists and XMA. Our creative educators use Apple technology to deliver innovative learning and teaching across the curriculum:
iPad Campus Induction: the global pandemic resulted in a national lockdown, but our campus inductions continued unabated in Minecraft, giving students the opportunity to 'visit' campus and connect with their peers.
Movie-Making: students shot an entire film using iMovie, bringing them closer to the actual production process and resulting in 100% student satisfaction with the module.
Upskilling the public sector: Teesside University trains the future and current public sector workforce. Over the last three years, 61 trainee teachers have become Apple Teacher certified; this is now being built into the broader UG education curriculum.
Clinical simulations: iPads have been used by Radiography students to conduct experiments remotely using a simulation tool as an alternative to accessing specialist facilities.
Equitable learning experience: beyond parity of access to technology, FFL has also levelled the learning experience for disabled students, through Apple accessibility features and support through trained specialist mentors.
Success
Evaluation, reflection and continuous improvement are intrinsic to FFL. Robust data is gathered through around 68,000 individual Module Evaluation Surveys annually, allowing the development of module action plans and identification of good practice. According to a recent survey, 92% of student respondents used their iPads at least several times a week. In Semester 2 2019/20, 81.3% of levels 3 and 4 students stated that they used their iPad to enhance their learning on their modules. The success of the Digital Development Programme is striking; 96% of colleagues are satisfied with the quality and 91% confirmed it met their specific development needs. To date, 653 teaching staff have engaged, with accolades such as Apple Teacher and a National Teaching Fellowship awarded.
What's next
The University has recently published its Teesside 2025 Corporate Strategy, which includes the aim: 'To empower connectivity in educational design, drawing upon the knowledge and skills of partners to drive the evolution of Future Facing Learning'. The University will harness the power of Apple technology to embed Education 4.0, providing our students will the skills to thrive throughout the Fourth Industrial Revolution. Moving forward, FFL will further energise our activities around student resilience and wellbeing, with particular emphasis on driving innovative approaches to student support through the digital transformation of our new Student Life approach. We will seek to deliver a personalised learning experience for each and every student, drawing upon the unique accessibility features provided by Apple technology.