Campus sport
Outdoor activities
We offer a huge range of outdoor activities, from climbing, walking and mountain biking, to surfing, kayaking and waterskiing.
Find out more
Campus Sports Leagues
Get together as a team with your hall or course mates and sign up for the campus sports leagues (7v7 football, 5v5 indoor football, badminton, mixed netball). Visit http://teessidesport.sportpad.net/ to sign up your team, view fixtures, results and league tables.
For more information about the campus sports leagues contact Pip Bell, Sports Development Officer (Participation) on 01642 342267 or email p.bell@tees.ac.uk .
Are you a qualified FA referee?
If you are a current student and a qualified FA referee and would like paid employment working at the campus football leagues, please contact p.bell@tees.ac.uk for more information.
BeSporty Sessions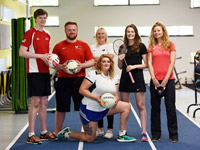 At Teesside Sport we offer a number of turn up and play social sport sessions (BeSporty) aimed at students and staff who want to get involved in sport and have limited time.
The BeSporty sessions are weekly and run on campus in a fun and friendly environment. All the sessions are aimed at beginners, there's no need to book and all equipment is provided.
Look out on the notice boards in Olympia, on Blackboard, Facebook and Twitter for the current BeSporty sessions.
For more information please contact p.bell@tees.ac.uk for more information, or follow us on Twitter using #BeSporty for regular updates.
If you're interested in a specific sport, our sports activators are here to help you get involved:
Football Activator - Josh Hodgson
Badminton Activator - Elizabeth Oliver
University Netball Officer (UNO) - Niketa Cartner
Higher Education Volleyball Officer (HEVO) - James Campbell
Female Sports Activator - Victoria Brown
Students' Union sports clubs
We support a wide range of sports clubs - everything from snow sports to volleyball. All abilities are welcome - you may want to join one of the teams that compete at local, regional, national and inter-departmental level.
More about our Students' Union sports clubs
British Universities & Colleges Sport
We're committed to the British Universities & Colleges Sport (BUCS) - the annual competition sees teams from 150 institutions taking part. Most games take place on a Wednesday afternoon and gives you the opportunity to represent Teesside University in your sport.
View the sports teams fixtures, team form and results