News
Teesside University welcomes international volleyballer to the campus
British volleyball player and motivational speaker Peter Bakare visited Teesside University's sport and exercise facilities to give students an insight into the sport science industry.
More information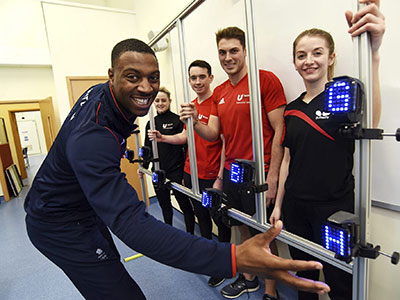 Peter Bakare tests his reactions with Teesside University elite athletes, Sophie Stonehouse, Jordan Thompson, Steven Reeves and Karina Le Fevre (left to right)
---
Peter, who competed at the London 2012 Olympic Games, took part in a range of activities with students from Sunderland College, including jump testing, body composition, foam rolling, reaction time testing and using eye tracker equipment.

The sessions provided students with a flavour of studying sport and exercise at degree level while also demonstrating the different types of careers within the sports industry with an emphasis on the role of the applied sport scientist.

'The activities at Teesside University provided students with a real eye-opener into the different areas within sport. No athlete can get to where they are without the support of people around them so it's important to show the different careers that are available,' Peter said.

'I think what the University has on offer here is awesome. From the animation studios to the sports facilities, it's incredible and shows a real depth into the choice of careers in sport.'

Laura Fleming, Senior Lecturer in Sport and Exercise, said: 'It's fantastic that students had the opportunity to compete with and against professional athletes like Peter during these sessions.

'We find having college students visit our campus gives them a taste of what it might be like to study sport and exercise at university but also helps them make informed decisions about the course they choose and where they study.

'Peter's input really helped our visitors and current students see how what they're studying is applied in the real world and we're so pleased we're able to work with Peter.'

As an animation graduate, Peter has also been able to combine his two passions of sport and nutrition with animation through his own projects following the Olympics.

Teesside University is working with Peter on his initiative, Nutri Troops, which aims to improve children's nutrition through the set-up of a healthy heroes training academy, delivered by animated mentors.

To date, Peter has worked with over 90,000 children in the North East, teaching them about the importance of healthy nutrition from a young age.

For more information on the Nutri Troops initiative, visit the website or see Nutritroops on Twitter.

03 April 2018