Philanthropy - Giving to Teesside
We rise by lifting others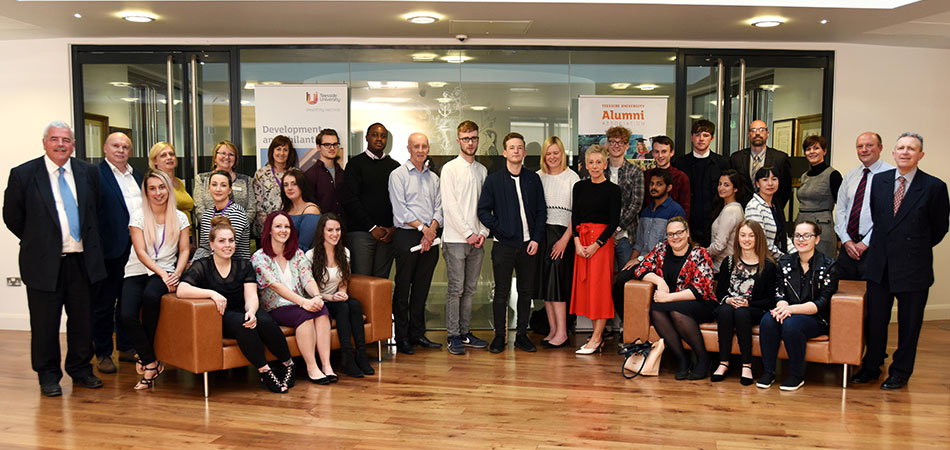 Teesside University was founded with a gift - in 1930 Joseph Constantine gave £80,000 to found the college which through the success and talent of its students grew into the thriving University it is today.
Continuing this tradition Teesside University still benefits from the generosity of its friends and donors who give their time, money and expertise to help the next generation.
Philanthropy - changing lives
Our development vision is to find, inspire and nurture talent. Talent takes many forms and is expressed in many ways. Teesside University harnesses the generosity of its friends and supporters to develop skills and experiences that equip students with all they need to succeed. Informed by excellence in teaching, research and facilities, our development vision places good citizenship and long-term economic growth for the region at its heart.
Philanthropic gifts are increasingly important in enabling us to enhance our student learning experience. Donations give us the opportunity to aspire to contribute new knowledge, provide our students with an enriched learning experiences and to continually improve our award-winning campus.
Our donors come from all walks of life and their gifts are used to support the University in many ways. They can allow us to respond flexibly to the area of greatest need, or they may be directed to areas of the University which reflect specific concerns, passions and interests.
Thank you to Teesside University's current Donors:
Dr Peter Atherton
Dame Diana Brittan
Professor James Caldwell
Marjorie Hearnshaw
Dr Ken Home
Sir Keith Skeoch
Success Photography
Tees Valley Community Foundation
Ways to give
At Teesside we're privileged to be able to offer a range of graduation prizes which have been generously donated by our alumni and supporters of the University. These prizes enable us to recognise academic excellence and the contribution individual students make to the University as a whole.
If you would like to find out more about how to institute a graduation prize then please get in touch
Your legacy
A legacy gift is one of the simplest and most flexible ways to support Teesside University, but also one of the most meaningful. The financial support provided by our alumni and supporters helps us to continue developing as a modern university, serving the needs of our students and businesses in the North East of England.
A legacy gift does not cost anything in your lifetime but ensures that your University can continue to thrive long into the future.
We are thankful for every legacy gift, and an endowed gift can mean that your legacy can go even further.
If you would like more information about leaving a gift in your will or have any questions, please contact alumni@tees.ac.uk
For generations, scholarships have provided a helping hand for talented students to take advantage of the benefits of higher education.
By supporting a scholarship at Teesside University, you can help to transform the life of a talented student, giving them extra support to reach their full potential.
Every year, thousands of students from across the country apply for our scholarships - and we need your help to ensure that we can continue to offer as many scholarship opportunities as possible.
Find out more
Please contact a member of the Alumni Relations & Development team
01642 738227 | development@tees.ac.uk
Gift Aid
Applying Gift Aid to your donation allows Teesside University to claim an additional 25p for every £1 that you give. If you pay tax at the higher rate you can claim tax relief for your donation to Teesside University.