Home ›
Alumni ›
Computing, Engineering & Digital Technologies
Computing, Engineering & Digital Technologies
Here some of our successful alumni detail how Teesside helped them on their career path.

Ben Wood
BSc (Hons) Forensic Science and MSc Criminal Investigation
I've developed so many skills that will help me in the future

Sam Smith
BA (Hons) Film and Television Production
I would recommend Teesside University and my course. It helped to get me where I am today.

Rebecca Pearce
BA (Hons) Visual Effects
I heard that Teesside was one of the best places to study visual effects so I visited an open day and that made my mind up.

Jack Kenmare
BA (Hons) Journalism
I work as a social media executive at LADbible group, writing articles and interviewing some of the biggest names in sport.

Ellen Dudley
BA (Hons) Computer Games Art
When I go to new studios I always know people through the connections I made at Animex - it's definitely made me feel at home in the industry.

Channelle Gowland
Diploma in Higher Education in Operating Department Practice
After visiting the campus and meeting the course tutors it was a no brainer, this was the place for me to study.

Hannah Graham
MSc Computing
'My time at Teesside University helped me to understand my purpose in life.'

Emma Bidgood
MSc Advanced Home Futures
'Teesside University is warm, welcoming and full of lots of incredible people, you'll be surprised how comfortable you feel here.'

Paul Metcalfe
MSc Mechanical Engineering graduate
Paul studied mechanical engineering and now works as a Lead Mechanical Engineer at Nifco.

Stuart Wareham
BSc (Hons) Media Technology
I look back on my time with great fondness. Teesside University provided me with the greatest of life experiences.

Hannah Cheetham
MA Multimedia Public Relations
The industry links at Teesside are so valuable in securing your first job out of university – which can be a scary prospect – but if you ask for it the help is there and always willingly given.

Loukia (Lucy) Kyriakidou
BA (Hons) Computer Animation
Teesside opened up so many opportunities for me as student. And now as a business, Teesside University also offers opportunities such as networking events and business support.

Neil Campbell
BA (Hons) English
I'd recommend it as a friendly place - both the university and town, with excellent, ambitious lecturers. It gave me a love of literature.
Jordan Grimmer
MA Concept Art for Games and Animation
The thing I loved most about my time on the course was how I was able to really concentrate on developing the skills that I felt would help me progress into a future career.
Rosemary Stubbs
MA Cultural History
Being able to decide on how I wanted to develop my own study was the best thing about the course.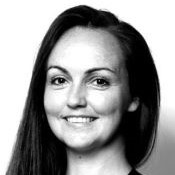 Yngvill Hopen
MA Concept Art for Games and Animation
My time at Teesside made me more confident in my work, and got me started with my contact network, which has been invaluable in the process of getting to where I am now.

Steven Askham
BA (Hons) Marketing
'Both the course and the facilities at Teesside University were outstanding.'

Lewis Birkett
BSc (Hons) Computer Games Programming
'The skills I gained at Teesside were invaluable.'

Phil Watson
BSc (Hons) Multimedia
'I had an amazing few years at Teesside. Everything I did lead me to where I am now.'

Shaun Stephenson
MSc Computer Aided Graphical Technology Applications, now MA 3D Games Art
Shaun's dream as a child was to create video games. He never thought it was possible until he completed his MSc at Teesside. Shaun has since worked on great films including Star Wars and Transformers. He lives in Florida.