Caitlin Woodhead
BA (Hons) Creative Writing - Brittan Scholarship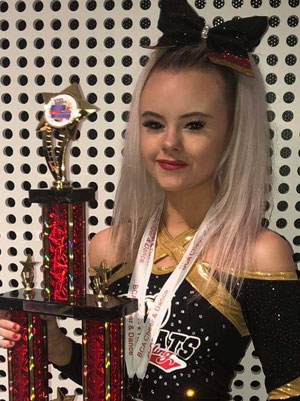 Why Teesside University?
I was very intrigued from attending the open day. I was given a personal tour around the University and got to see where I would be studying. I felt very at home and impressed by the technology, including high-specification computers and intricate drawing tablets, which I could use 24/7, which would fit around my work schedule perfectly. I was also very interested in the extracurricular events, including the Cheerleading team which I am now the Chair of. I knew Teesside University would offer me a lot of opportunities.
Best thing about your course?
After starting my course, I decided it wasn't quite right and changed to the BA (Hons) Creative Writing course. The staff made the process of changing courses and the transition very easy and I'm really happy with my decision. The workshop experience means I am learning different writing techniques and also helping other students at the same time. My lecturers are all very open and welcoming and offer one-to-one sessions. I get feedback for my assignments, and any worries I have are always alleviated. Most of all, I love the freedom I get with my course, and having the option to choose out of many different topics to write about.
Tell us about the Lady Brittan Scholarship
I received ???, which helped me to fund my living expenses and to help the Cheerleading club thrive. This financial help allowed me to focus on my work and not have to worry about financial expenses. I would recommend applying for a scholarship and searching your options, as it a huge help to the student lifestyle.
Would you recommend Teesside University and your course to others?
I would recommend Teesside University to anyone who has a creative passion and drive. There are multiple opportunities for you to explore and the University is very supportive of every student. There is a large range of sporting activities and clubs to choose from. As a second year BA (Hons) Creative Writing student, the University has given me many opportunities to put my work out there and I have had heaps of help along the way to obtaining my degree. If you have an interest in writing or appreciation of writing or the art behind it and want the freedom to write creatively and get advice in doing so, I would definitely recommend this course.