Course overview
Aviation Conference
Our students had the opportunity to discuss space exploration, customer experience, marketing priorities, sustainable objectives and Net Zero with industry leaders.
Teesside International Airport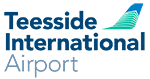 You also benefit from our collaboration with Teesside International Airport who host field trips and guest lectures for our students to provide a rich and immersive learning experience.

Talentview Aviation


An employment resource hub for our aviation students to access graduate roles, opportunities and visibility by employers across the UK aviation industry.
This is an award of Teesside University delivered in partnership with Stockton Riverside College.
Course details
Course structure
Year 1 core modules
Exploring Health, Safety and Security in Aviation
You study the universal implementation of industry health, safety and security standards. Understand the key aviation operations relating to teamwork, health, security and safety and how they contribute to emergency planning and mitigating incidents. You also explore management issues and decision making connected to the key aspects.
Innovation and Technology in Aviation and Tourism
Explore the use of technology within aviation, travel and tourism sectors. Examine the benefits and limitations, as well as the implications from a range of perspectives including legal, economic, environmental, human resource and operational efficiency. Investigate trends and development within the sector, also looking at the potential effects of future technological developments.
Introduction to Study and Transferable Skills
This module facilitates your transition into higher education as you reflect on your own learning and achievement. You gain knowledge and skills in a variety of learning environments, identifying areas for further development. You are also encouraged to critique your own work.
Marketing Principles and Practice in Aviation and Tourism
Marketing is an important aspect for all businesses in aviation and tourism organisations. It outlines their brand and sets the tone of their culture.

In this module, you study the fundamental principles of marketing and its impact on a changing and competitive environment. Explore the specific marketing applications, skills and techniques used by the service sector. Analyse buyer behaviours, which are intrinsic to effective marketing success.

Structure and Regulation of the Aviation Industry
In this module, you gain an understanding of the aviation industry's structure, including the roles and responsibilities of key organisations. You also study the historical underpinning of keynote legislation, focusing on how this has evolved and developed. You examine the external factors on regulation, understanding the need for universal industry regulative standards.
Understanding Sector Customer Service Provision
You gain an understanding of how aviation and tourism organisations are shaped and defined by customer facing opportunities. Develop your customer service management skills, considering the importance of gathering information from customers. Examine how service delivery can be improved using a range of research methods and analyse customer service policies and procedures.
Year 2 core modules
Business Economics and Financial Insight
Understand how to efficiently manage and analyse financial resources in an organisation. In this module, you learn how to navigate financial information effectively to inform decision making in the aviation and tourism industry.
Contemporary Issues in Aviation
You develop an understanding of the aviation sector at a management level. Considering the external environment, you assess and challenge sustainability theories and best practice in aviation business planning and continuity. You also explore factors affecting resilience and mitigation procedures for operations.
Exploring Tourism Destination Development
You investigate approaches to tourism development planning, focusing on key stakeholders. Examine the need for sustainable tourism and consider the moral, social and ethical aspects in tourism destination development.
Performance Management and Leadership in Aviation and Tourism
You study the models and theories of the human resource management function, aligned to stakeholder business aims and objectives, developing an understanding of managing people at work.

Explore the area of leadership and people management, which is critical to developing the right culture in a working environment. Learn different approaches to creating a cohesive, diverse, innovative and high-performing workforce.
Professional Development and Employability Planning
In this module, you are encouraged to reflect on your professional development in the aviation and tourism setting. You focus on developing your skills to enhance employability.
Understanding Research in Aviation or Tourism
Gain an understanding of the importance of research and how this links to ethical considerations in aviation and tourism. You research a topic area relating to the sector, developing your knowledge and skills to produce a literature review.
Modules offered may vary.
How you learn
Your lectures and seminars are delivered by industry specialist staff with current and direct experience from all disciplines of the travel, tourism and aviation sectors. You acquire appropriate background knowledge and develop broader academic skills, with emphasis on a balance of the theoretical requirements and aspects of the sectors and how they can be developed in practical sector settings. You have support from a range of employers particularly with guest lecturers from leaders in their field from airlines, airports, visitor attractions, hoteliers, travel agents and tour operators. This is invaluable to you to be able to apply theory to industry practice and give you a thirst for further knowledge and raised aspirations. Work based learning modules include field trips which can be used as case studies to develop your industry knowledge and continue to develop and support your achievement.
How you are assessed
The knowledge and skills developed through the course are assessed in a variety of ways, using both in-course and end assessments. Methods include reports, essays, projects, case studies, examination, individual or group presentation, group activity and a personal development portfolio. The business related modules will have a travel, tourism or aviation focus and are contextualised to enable learners to focus on their strengths.
---
Our Disability Services team provide an inclusive and empowering learning environment and have specialist staff to support disabled students access any additional tailored resources needed. If you have a specific learning difficulty, mental health condition, autism, sensory impairment, chronic health condition or any other disability please contact a Disability Services as early as possible.
Find out more about our disability services
Find out more about financial support
Find out more about our course related costs
Entry requirements
Entry requirements
A typical offer is 40-48 points.

The entry criteria are based on your ability to succeed and can be demonstrated in a variety of ways including:

a range of Level 3 qualifications (NVQ 3, BTEC Award, A Levels, T Levels)
appropriate training through work
English and maths at GCSE grade 4 (grade C) or above (or equivalent).

We also invite you to attend for interview.

Because this course is taught at Stockton Riverside College, we are not accepting applications from international students requiring a Student Visa.

For general information please see our overview of entry requirements
---
You can gain considerable knowledge from work, volunteering and life. Under recognition of prior learning (RPL) you may be awarded credit for this which can be credited towards the course you want to study.
Find out more about RPL
Employability
Career opportunities
You study a range of subject-specific and business modules that provide you with excellent balance and flexibility that can lead to a range of careers from across the sector - public sector tourism management, airport management, retail travel management, business, hospitality, and leisure. Recent alumni and current students have secured employment both locally and nationally with leading sector organisations such as Virgin, Jet2, easyJet, British Airways, IAG, Securitas, Teesside International Airport, Manchester Airport Newcastle International Airport, Gatwick Airport, London Heathrow, and leading tour operators in a range of roles from Air traffic control, Aviation regulatory bodies, airline and airport management through to executive travel marketing.

You may also further your studies and progress to the BA (Hons) International Tourism Management (Top-up) or BA (Hons) Airline and Airport Management (Top-up).