News
Degree course put Caroline on paramedic career path
Caroline Wright was among the first cohort of students to complete a unique paramedic degree at Teesside University.
More information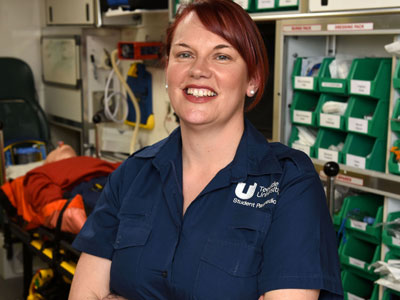 Caroline Wright
---
She is now working as a paramedic with North East Ambulance Service (NEAS). Her role involves responding to emergency calls, providing aid within the pre-hospital emergency care setting.

The BSc (Hons) Paramedic Practice was launched to meet the diverse needs of the changing NHS workforce. All students from the first cohort went on to secure jobs as paramedics within the NHS.

During the three-year degree, students spend time on placement with GP surgeries, hospitals and ambulances to learn core skills in how to assess, manage, treat and refer patients.

Caroline, 38, of Hartlepool, said: 'The degree is a really well planned, robust course which balances practical and academic learning. The placements were fantastic and provided valuable experience across a broad spectrum. Paramedics work in walk-in centres, A&E units, prisons and police custody suites, as well as with ambulances. There is a whole host of career options and this degree provides the perfect building block.'

She added: 'I had wanted to be a paramedic for some years and had experience working within an ambulance service. I heard about the course at Teesside and was successful in applying. It suited me as a mature student, with a family and commitments, as I was unable to travel out of the area to study.'

Caroline said returning to study was 'initially quite scary' but she soon settled in and found her fellow students to be from a range of backgrounds and age groups.

She said: 'It was easy to find my feet and the paramedic team were very supportive, not only with practical support but also in achieving academic goals. Returning to education at an older age and reducing my full-time employment to part-time was quite risky for a single parent. However after passing my first assignment, I grew in confidence and never looked back.'

Caroline also feels the course design, split between practical and academic work, is perfect. She added: 'It was set up as a paramedic degree should be. The placement providers available through this course are excellent. I gained some valuable experience through time spent with The Great North Air Ambulance Service and mental health teams from Tees Esk and Wear Valley.

'Everything in the degree was relevant and prepared me for practice. The career of a paramedic is one of continuous learning and I felt ready and able to take on those challenges, thanks to the design and support of paramedic programme and lecturers. I have already signed up to do further short courses with Teesside University to continue my learning and development.'

20 July 2017
In the News
University proved to be a life saver
Northern Echo, 19/07/2017; Evening Gazette, 20/07/2017
Caroline Wright was among the first cohort of students to complete a paramedic degree at Teesside University. She is now a paramedic for North East Ambulance Service (NEAS).