Sport & well-being
Teesside has top-quality facilities and professional advice for everyone – don't miss out while you're here.
Paralympic send off for Jade Jones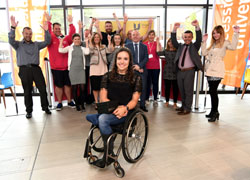 Staff at Teesside University have given a rousing send-off to one of their students who is heading to Brazil to compete in the Paralympics.
---
Elite athlete scheme
We help talented athletes reach their full potential.
Find out more
---
FA Girls' Centre of Excellence
The University has been chosen as a FA Girls' Centre of Excellence.
Find out more
---
Online booking
We now have an online booking system for sports members to book gym inductions, climbing wall inductions, exercise classes, personal programmes and Mini MOTs.
Please note, you must be a valid sports member to use this service.
Twitter
Tweets by @teesside_sport
Facebook

Become a fan of Teesside Sport - join us on Facebook.
Facebook
Top-class facilities

We have top quality sport and fitness facilities, so make the most of them while you're here.
Sport and fitness at Teesside
Sharon smashes two world records

Ultra distance runner Sharon Gayter has smashed two world records at Teesside University.
Sharon smashes two world records