A new partnership between Teesside University and a leading engineering company heralds multiple opportunities for both organisations at a time of significant investment in energy infrastructure in the Tees Valley region.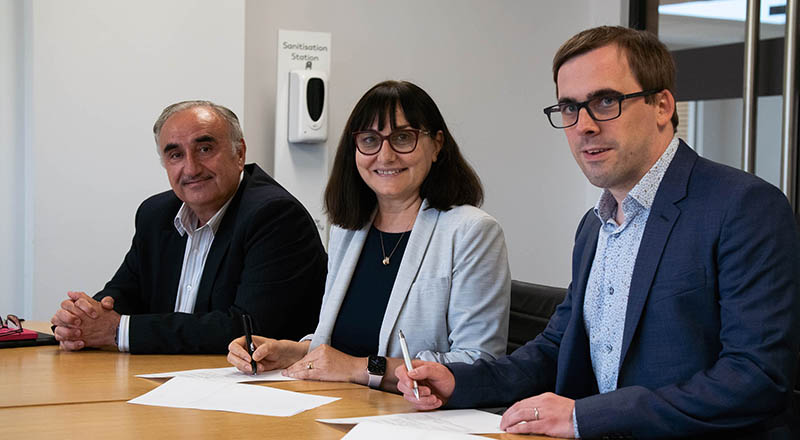 Representatives from Assystem met with staff from the University's School of Computing, Engineering & Digital Technologies to pledge to work together in a range of areas including collaborative research, knowledge exchange and student placements.
Assystem is an independent engineering group with over 50 years of experience specialising in low-carbon and energy transition projects. As a leading player in digital transformation, Assystem supports its clients with digital engineering and industrial data science solutions to contribute to the acceleration of the energy transition to meet global net zero targets.
Assystem employs more than 6,000 people globally and its Sunderland based team is the UK company's lead office for energy transition projects. It is committed to delivering projects that will drive the generation of low-carbon electricity, utilising technologies such as hydrogen, renewables, and fusion.
The Memorandum of Understanding with Teesside University commits both organisations to continue building a relationship, co-operate in a broad range of areas and to work together to gain a mutual benefit.
Areas for future collaboration could include:
Identifying training needs and developing appropriate solutions.
Developing joint projects such as collaborative research.
Conducting guest lectures and masterclasses.
Arranging placements, internships, work experience and curriculum development opportunities.
This announcement follows significant regional investment in energy infrastructure. The UK Government is investing £3million in the Tees Valley hydrogen transport hub, which will bring together leading figures from government, industry and academia to focus research, testing and trials across all transport modes, while plans to use locally generated renewable energy to produce hydrogen in Teesside were recently announced by EDF Group.
Teesside University is uniquely positioned to support industry through its position within the Net Zero Teesside Cluster, and it's range of energy transition focussed courses.
Professor Nashwan Dawood, Associate Dean in the School of Computing, Engineering & Digital Technologies, said: "We are delighted to be able to formally strengthen our partnership with Assystem.
"A key focus for Teesside University's research is supporting the just transition to a smarter, greener industrial economy and we are keen to work together to look at ways in which this might be achieved within the energy sector.
"In particular, we are keen to support collaborative research and innovation in our new Net Zero Industry Innovation Centre and discover ways in which we can support the future needs of the industry.
"I am confident that this partnership will realise multiple opportunities for both parties and I am looking forward to watching our collaboration grow."
Gary Reed, Assystem's UK Energy Transition Business Manager said: "As someone who joined Assystem as a graduate from a north-east university 14 years ago, I am passionate about developing long-term partnerships with local academic institutions.
"Assystem can provide exciting, high skilled job opportunities working to address the fundamental challenges of our generation, such as climate change and energy security, while Teesside University is uniquely positioned to support industry through its position within the Net Zero Teesside Cluster, and it's range of energy transition focussed courses."
---