Course overview
Study at Teesside University International Business School
See what it's like to study at our modern, enterprising and dynamic business school
If you have an HND or foundation degree (or equivalent) in an accounting or finance-related subject, or if you wish to enhance the financial aspects you have covered in a business foundation degree or HND, this course will allow you to convert your qualification into a finance and accounting-related honours degree.

This honours degree combines general management expertise with invaluable knowledge of accounting and finance. The course is aimed specifically at developing financial management skills within a wider business context. Having an excellent understanding of both finance and accounting will give you an advantage in any profession today but particularly in the growing financial services sector.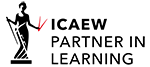 Recognised as an Institute of Chartered Accountants in England and Wales (ICAEW) Partner in Learning, working with ICAEW in the professional development of students.
Course details
Course structure
Modules
Environmental, Social and Governance Framework
Explore the concepts, theories and practical techniques in professional ethics, corporate governance, and social and environmental responsibility. Corporate ethical stances, social and environmental performance are evaluated, and ethical problems in accounting and finance are discussed. As well as corporate governance principles, functions and mechanisms, and practical applications.
This is a 30-credit module.
Global Economics and International Finance
You examine the financial sector of the economy, and you study the key concepts used to analyse trade, capital flows, financial markets and world uncertainties and risks. You also cover international trade, globalisation, the foreign exchange market, the currency market, exchange rates and the currency regime.
This is a 30-credit module.
Conduct a business project related to your subject area, allowing you to demonstrate your capability in undertaking an individual piece of research. This may be an investigation of a practical business issue, a relevant issue of academic interest, or a live problem-solving project.
This is a 30-credit module.
Develop your understanding of the theoretical frameworks for financial reporting and build your knowledge of financial accounting. You explore reporting standards through the preparation and interpretation of financial statements for single entity and consolidated financial statements. You learn to apply key International Financial Reporting Standards (IFRS) to transactions. And you gain the skills needed to prepare consolidated financial statements featuring statements of profit and loss and statements of financial position.
This is a 30-credit module.
Modules offered may vary.
How you learn
Modules are taught via lectures, seminars, practical workshops and group work. Teaching staff adopt a range of web-based technologies to deliver module and programme content, assess, provide feedback and communicate with students. Our teaching staff include professionally qualified accountants who have both academic and industry experience. They also teach on professional body accredited programmes which means they are in tune with current standards and future developments.
How you are assessed
The programme is assessed via a variety of methods including assignments and examinations.

Timetabling information
Hours of attendance vary between 12 hours and 20 hours per week. Any module choices are discussed with course tutors during the enrolment and induction period. Further details are automatically sent to applicants due to enrol this year.

---
Our Disability Services team provide an inclusive and empowering learning environment and have specialist staff to support disabled students access any additional tailored resources needed. If you have a specific learning difficulty, mental health condition, autism, sensory impairment, chronic health condition or any other disability please contact a Disability Services as early as possible.
Find out more about our disability services
Find out more about financial support
Find out more about our course related costs
Entry requirements
Entry requirements
You need a foundation degree or higher national diploma (or equivalent) in a business or finance-related subject. When applying through UCAS, make sure that you indicate your point of entry as Year 3.
For general information please see our overview of entry requirements
International applicants can find out what qualifications they need by visiting Your Country
---
You can gain considerable knowledge from work, volunteering and life. Under recognition of prior learning (RPL) you may be awarded credit for this which can be credited towards the course you want to study.
Find out more about RPL
Employability
Career opportunities
Our graduates are better placed to find employment in a wide range of business, management, financial and administrative jobs, both in the UK and overseas, than those with a purely business-related degree.

You gain relevant employability skills in preparing accounting and financial reports, managing financial risk and solving ethical problems.

Many graduates go on to complete master's degrees such as MSc Accounting and Finance, MSc Finance and Innovation and MSc International Management. Some take up professional roles as accountants, financial managers or operational managers in accounting firms, financial institutions and other companies.
Information for international applicants
Qualifications
International applicants - find out what qualifications you need by selecting your country below.
Select your country:
Useful information
Visit our international pages for useful information for non-UK students and applicants.
Talk to us