News
Sue is taking first step to creating her own brand
The road to becoming an established fashion designer has been a long one for Sue Gamesby.
More information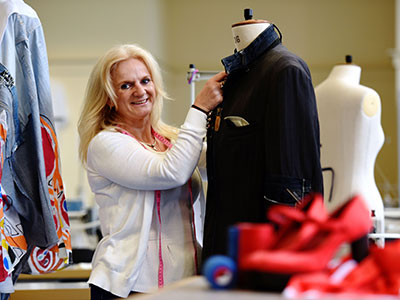 Sue Gamesby
---
But the end is now in sight as she graduates from Teesside University today with a First Class BA (Hons) Fashion Enterprise.

Sue, 50, came to University late in life, but that hasn't prevented her from making her mark.

With 30 years of sewing experience, Sue has already set up a clothing alteration business in Teesside Launchpad – a space at Teesside University which provides support and advice for anyone looking to start a new, high impact venture in the area.

And she plans to set up the Gamesby brand later in the year with a bespoke design and make business that will consist of making wedding, prom, costume and evening designer dresses.

She said: 'The course and all the hard work has helped me become confident and has made it possible for me to start making my dream come true. It has taught me that if you want something there is always a way to get it and has given me the skills to be a fashion designer and the contacts to support me through my journey of becoming a successful start-up business.'

Sue says she feels extremely proud to be graduating and her partner and daughter will be in the audience to see her collect her award.

She added: 'I would describe my time at Teesside University as a massive learning curve. I have had the opportunity to meet some interesting people through networking events and visits to London.

'It has been an inspiring journey and I would recommend it to anyone who wants to make things happen in their lives. For me, it has started a process that will make my dream of becoming a fashion designer come true.'

16 July 2018
In the News
Sue is taking first step to creating her own brand
Evening Gazette, p38, 16/07/2018, Northern Echo, p49, 16/07/2018
The road to becoming an established fashion designer has been a long one for Sue Gamesby.