Home ›
George Friend Scholarship
George Friend Scholarship
If you are applying to study at Teesside University and have applied to the Teesside University Football Academy, you could be eligible for a scholarship.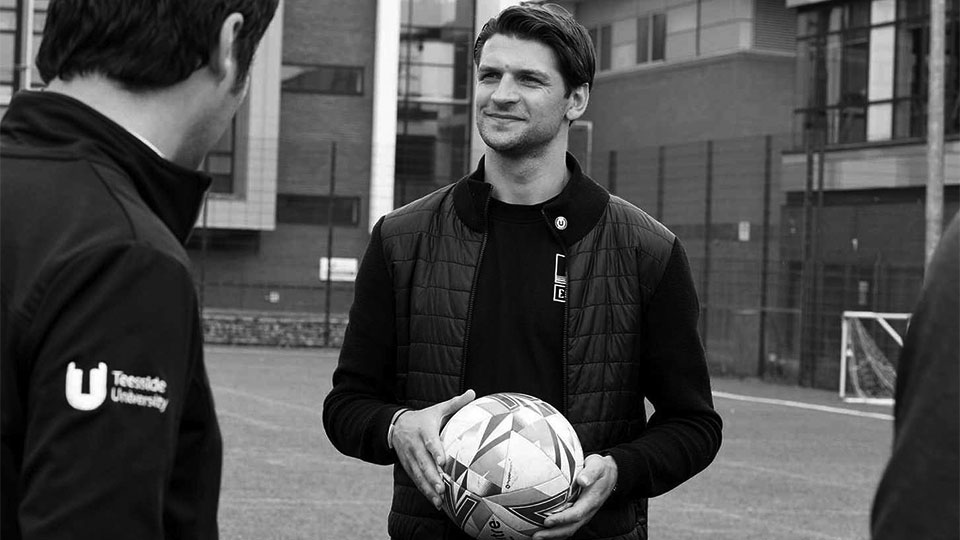 George Friend, an English professional footballer, started his career at Exeter City before moving on to Wolverhampton Wanderers, Doncaster Rovers, and Middlesbrough in 2012. He captained Middlesbrough for the first time in 2015, quickly becoming a fan favourite and a popular player on and off the pitch for his charity work and engagement with the local community. Now at Birmingham City, George still visits Teesside often and retains a strong affection for the region - he gives his time and support to the new Football Academy and generously established this scholarship to support students develop their footballing skills during their studies.
Three scholarships are available if you are enrolling onto the Football Academy in the 2023-24 academic year. If you are successful, you are awarded £1,000 scholarship.
To be eligible, you must successfully secure a place on the Football Academy programme at the University for autumn 2023.
Three scholarships worth £1,000 are available for the 2023-24 academic year.
George Friend Scholarship eligibility
This scholarship may be relevant if you face financial difficulty during your studies at Teesside University. You are considered based on the financial circumstances demonstrated in your application statement and other applicant data available to the University.
To apply for one of these scholarships you must:
be a new entrant on an undergraduate full-time course on the first year of a three-year degree course not a foundation year
successfully secure a place on the Football Academy at the University for autumn 2023
outline your financial circumstances and how the scholarship funds will enable your studies.
Preference is given to students from the Tees Valley.
How to apply