Course overview
Study at Teesside University International Business School
See what it's like to study at our modern, enterprising and dynamic business school
You study business organisation, management, leadership and enterprise combined with specialist modules in financial management and accounting.
This course includes a foundation year - ideal if you need additional preparation or if you don't have sufficient grades to join Year 1 of a degree.
This programme will be particularly of interest to those seeking to pursue careers in the financial services sector including economics, accounting and management in both the commercial and public sectors.

Study this course and you may be eligible for £2,000 off your accommodation in the first year, or a £9,000 Professor Jane Turner scholarship.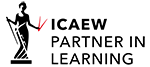 Recognised as an Institute of Chartered Accountants in England and Wales (ICAEW) Partner in Learning, working with ICAEW in the professional development of students.
Course details
Year 1 focuses on providing you with the necessary underpinning in terms of broad business and accountancy knowledge and skills. It introduces key business and management concepts.

Year 2 lets you explore your own interests and deepening your insights as well as having more responsibility for your own learning.

The final year explores more advanced topics within business and accountancy and you develop your awareness of your own responsibility as a future leader of business. Finally, you have the opportunity to put your knowledge into action by undertaking a self-managed independent project through the Dissertation module.
Course structure
Foundation year core modules
Digital transformation is a development that businesses have been aware of for many years. The speed, interactivity, accessibility, convenience and versatility of digital technology has the power to transform organisations. Learn about the variety of digital sources and how to use them in organisations to drive forward operational development.
This is a 30-credit module.
Combining creativity with an enterprising outlook allows helps businesses solve challenges innovatively, by implementing new ideas and practices. In this module, you develop your creative mindset by learning from experienced entrepreneurs and gaining an understanding of enterprise in business organisations.
This is a 30-credit module.
Professional Skills for Business
You consider the skills required to operate successfully in business and develop your abilities and knowledge ready to begin your career.
This is a 30-credit module.
Explore the fundamentals of data collection and analysis, using academic research and practical examples to develop your understanding of the importance of ethical research.
This is a 30-credit module.
Year 1 core modules
Accounting Principles and Systems
You are introduced to the basic concepts of financial accounting, developing knowledge of bookkeeping, accounting adjustments, and final accounts preparation for sole traders and companies. You learn how to record transactions, enter journals in the ledger, and produce accounting reports using an accounting information system. By the end of the module, you are able to prepare a simple set of financial statements, incorporating statement of profit and loss, and statement of financial position for sole traders and companies.
This is a 30-credit module.
Organisational Performance and Strategy
Gain basic knowledge of business operations and strategy management principles, focusing on the external environment and identifying factors which may impact on internal capability and resources. You explore the importance of the business environment and the impact of organisational behaviour. As well as organisational resources, capability and competency, risk factors and management, leadership and management, organisational culture, structure and function.
This is a 30-credit module.
Quantitative Data and Decision-Making
Enhance your understanding of quantitative techniques, spreadsheet analysis tools, cost and management accounting, data presentation and digital literacy. You build critical digital skills and explore data analytics tools, learning how to apply these to practice scenarios.
This is a 30-credit module.
Technology in the workplace is changing at a fast pace, with organisations striving to utilise technology to develop efficient business models. You are introduced to emerging technologies and shifting attitudes in the workplace, examining how these new technologies are impacting business and identifying opportunities for the future.
This is a 30-credit module.
Year 2 core modules
Financial Reporting
Consider the financial techniques and analysis used by managers to control and assess organisational performance and enhance decision-making. You gain contemporary knowledge of management accounting techniques. And you study their application to qualitative and quantitative data for planning, decision-making, performance evaluation and control. Develop your digital skills to assess organisational performance from a financial and non-financial perspective.
This is a 30-credit module.
You develop your cultural awareness through a business lens, focusing on common humanity and equal worth. Explore a culture of your choice and consider the development of a new business or the expansion of an existing business into that culture.
This is a 30-credit module.
Examine the importance of lifelong learning and self-development, exploring your interests and potential careers through online short courses. You develop yourself in preparation for your future career including your personal branding and online presence.
This is a 30-credit module.
Optional work placement year
You have the option to spend one year in industry learning and developing your skills. We encourage and support you with applying for a placement, job hunting and networking.

You gain experience favoured by graduate recruiters and develop your technical skillset. You also obtain the transferable skills required in any professional environment, including communication, negotiation, teamwork, leadership, organisation, confidence, self-reliance, problem-solving, being able to work under pressure, and commercial awareness.

Many employers view a placement as a year-long interview, therefore placements are increasingly becoming an essential part of an organisation's pre-selection strategy in their graduate recruitment process. Benefits include:

· improved job prospects
· enhanced employment skills and improved career progression opportunities
· a higher starting salary than your full-time counterparts
· a better degree classification
· a richer CV
· a year's salary before completing your degree
· experience of workplace culture
· the opportunity to design and base your final-year project within a working environment.

If you are unable to secure a work placement with an employer, then you simply continue on a course without the work placement.
Final-year core modules
You build on your financial accounting knowledge, developing your understanding of theoretical frameworks for financial reporting. Explore the content and application of complex reporting standards, and the preparation and intrepretation of key financial statements. On completion of you module, you are able to apply the International Financial Reporting Standards to transactions, and prepare consolidated financial statements incorporating statement of profit and loss, and statement of financial position.
This is a 30-credit module.
Apply best practice in internal and external auditing within the International Standards on Auditing framework. And complete audits by apply auditing theory using a risk-based approach, along with professional scepticism and professional judgement.
This is a 30-credit module.
Reimagining the Future of Business and Society
Unpack the UN's Sustainable Development Goals and explore the utopian and dystopian possibilities of the goals being met or unmet. You develop your understanding of the global impact of these goals while considering global challenges and possible solutions.
This is a 30-credit module.
and one optional module
You get the opportunity to work on live projects with external clients. This practical learning encourages you to become an active learner and decision maker. You improve your communication and problem-solving abilities, drawing on the knowledge you gained in previous modules. This includes management science, organisational behaviour, emerging technology and information systems, data analysis, and accounting and finance.
This is a 30-credit module.
Conduct a business project related to your subject area, allowing you to demonstrate your capability in undertaking an individual piece of research. This may be an investigation of a practical business issue, a relevant issue of academic interest, or a live problem-solving project.
This is a 30-credit module.
Modules offered may vary.
How you learn
Modules are taught by lectures, seminars, practical workshops, work-based activities and group work. Teaching staff adopt a range of web-based technologies to deliver module content, assess, provide feedback and communicate with students.
How you are assessed
The programme is assessed via a variety of methods including assignments, examinations, group work, presentations and live practical projects.


---
Our Disability Services team provide an inclusive and empowering learning environment and have specialist staff to support disabled students access any additional tailored resources needed. If you have a specific learning difficulty, mental health condition, autism, sensory impairment, chronic health condition or any other disability please contact a Disability Services as early as possible.
Find out more about our disability services
Find out more about financial support
Find out more about our course related costs
Entry requirements
Entry requirements
A typical offer is 32-64 tariff points from at least two A levels, T level or equivalent. and GCSE grade 4 (grade C) or above (or equivalent) in maths.
For general information please see our overview of entry requirements
International applicants can find out what qualifications they need by visiting Your Country
---
You can gain considerable knowledge from work, volunteering and life. Under recognition of prior learning (RPL) you may be awarded credit for this which can be credited towards the course you want to study.
Find out more about RPL
Employability
Work placement year
Career opportunities
We provide an environment that allows you to develop the extra practical employability characteristics that will make you more attractive to employers in the job market.

Our staff utilise their extensive business connections to provide many and varied opportunities to engage with potential employers through fairs, guest lecture sessions, live projects and site visits. In addition we offer a series of workshops and events in the first, second and third year that ensure all students are equipped with both degree level subject knowledge plus the practical skills that employers are looking for in new graduate recruits. We also offer extensive support for students to find and secure industry-year placements which have been shown to make have significant positive impact on a student's career prospects on graduation.

Our award-winning careers service works with regional and national employers to advertise graduate positions, in addition to providing post-graduation support for all Teesside University alumni.

Through collaborative projects with our international partners, you gain the skills and confidence to succeed in the world of work on a global scale. You work with SMEs and large corporate organisations, developing practical business skills by formulating solutions to real-world challenges. We ensure that you acquire a unique mix of ability, knowledge and experience to secure the perfect role.
Information for international applicants
Qualifications
International applicants - find out what qualifications you need by selecting your country below.
Select your country:
Useful information
Visit our international pages for useful information for non-UK students and applicants.
Talk to us