Our Vision for Well-being
"Health is created and lived by people within the settings of their everyday life; where they learn, work, play and love." (WHO, 1986 - Ottawa Charter for Health Promotion).
"A healthy university aspires to create a learning environment and organisational culture that enhances the health, well-being and sustainability of its' community and enables people to achieve their full potential."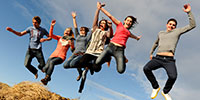 Well-being fortnight: 25 February - 8 March
Discover all the ways you can get fit, stay well and feel great.
Find out more
Our vision at Teesside is to nurture the physical, social, psychological and spiritual well-being of our students and staff to enable them to acheive their full potential. We want students and staff to feel they area part of a university community, where they feel valued and supported.
We aim to achieve our vision by providing a variety of different services.
Well-being Centre
Mental, physical and emotional health are important parts of your experience as a student or member of staff. The Well-being Centre is a friendly and relaxing place where you can attend drop-in sessions, short courses and workshops, have complementary therapy treatments or find out more about a particular health issue.
Additional well-being services include one-to-one nutritional advice, mini MOT health checks and access to a light-box for those who experience seasonal depression. For more information about the Well-being Centre email studentwellbeing@tees.ac.uk.


Well-being brochure (pdf - 1mb)
Student Centre
We're a close knit community and pride ourselves on the accessibility and sensitivity of our support services.
Advice and guidance can be provided from us in the Student Centre on the first floor of the Clarendon Building. Our services include help on a range of issues from applications, admissions and finance to careers and counselling.
Contact us on 01642 342277 or studenthelp@tees.ac.uk.
Five ways to well-being
Student health services
We can provide support and advice on health issues and we offer services to improve your well-being. Student health services
These are five evidence based ways to help you improve your mental wellbeing and we have endeavored to incorporate them into the services and activities we offer. Try to integrate them into your daily life, think of them as your five-a-day of mental wellbeing.
Learn more about the five ways to well-being
Sports membership scheme
It costs just £95 for a full year's membership for students and £115 for staff, which includes unlimited access to the gym and fitness classes, climbing wall, personal exercise programme, gym and climbing wall inductions, squash and badminton courts. You can also swim for free at the Neptune Centre swimming pool.
To join, or obtain further information, ask at the Brittan or Olympia building reception, or visit www.tees.ac.uk/sport. You can also join online.
For more information on the sports membership scheme contact sport@tees.ac.uk or call (01642) 342267.
We also offer a wide range of sports participation activities which can be enjoyed while studying at Teesside. The aim is to provide the best University experience as possible, help you make new friends and provide an opportunity to try new sports or activities. Activities include the Intra Mural Sports Leagues (seven-a-side football, badminton, mixed netball), outdoor activities, and sports taster sessions. For further information contact Pip Bell.
Multi-faith chaplaincy and pastoral service
The chaplaincy is a service for people of all faiths or none. It offers confidential, non-judgemental pastoral care and support to all staff and students within the University. The chaplains are available for personal conversations at mutually agreed times. You don't have to be religious to come to talk to them and it can be about any issue. The chaplains are:
Rev Andrew Howard, Anglican Chaplain
Email - a.howard@tees.ac.uk or telephone (01642) 342708 and mobile 07740932758.
Fr John-Paul Leonard, Roman Catholic, Sacred Heart Presbytery
Email - sacredheart_holyname@yahoo.co.uk or telephone (01642) 850113.
The chaplaincy office is located on the first floor of the Clarendon bilding, in the Student Centre. Visitors are welcome without an appointment as a message can be left at reception if a chaplain isn't available. They can also be contacted at chaplaincy@tees.ac.uk.
Occupational health (staff only)
The Occupational Health Service wish to provide a professional, confidential and supportive service to all employees of the University that aims to be as proactive as possible to prevent health issues arising, promote well-being and healthy lifestyles.
Further information about the occupational health service can be found here. You can also contact occupationalhealth@tees.ac.uk.
What we offer
All services are available to students. Those available to staff are identified as such.
All services are free of charge except for the complementary therapies which range from £10 to £18 per treatment. Booking is required for all services. Sessions can last up to one hour.
Most services take place in the Well-being Centre, Second Floor, Brittan Building for Sport and Well-being. Others do take place in different venues across the University, with details available when specific services are advertised.
Health and well-being drop-in clinic
When you attend the drop-in clinic you will have a 20-minute one-to-one session to discuss any physical or mental health and well-being issues, such as as smoking, alcohol, drugs, healthy eating, weight management, physical activity or medical issues.
Clinics are run by fully qualified staff, with expertise in their specialst area of knowledge.
When attending the clinic you may:
be provided with further information and contact details where needed
be given further support or advice within the University, if required
be signposted or referred to support services outside the University, if required, for example a GP or other community health service
The drop-in clinic is free of charge and you need to book an appointment. More about the health and well-being drop-in clinic

For mental health and well-being queries a.kyriakopoulos@tees.ac.uk@tees.ac.uk.
3.00pm to 4.00pm, Mondays and 10am to 11.30am Thursdays.
For physical health and well-being and lifestyle queries h.wright@tees.ac.uk@tees.ac.uk.
10.00am to 11.30am, Thursdays.

Health promotion events
Throughout the year, we run a number of health promotion events and campaigns, including:
meningitis and swine flu awareness
health and well-being week
sexual health awareness and chlamydia screening sessions
drug and alcohol awareness.
Mini MOTs (also available to staff)
This 15-minute assessment of your basic health includes your blood pressure, weight and body mass index. Book an appointment on 01642 342267.
More about Mini MOTs
One-to-one nutritional advice (also available to staff)
A qualified member of the fitness team will discuss your diet and nutrition, suggest changes and guide you through these changes to improve your health and potentially aid weight management, migraines or fatigue. More about one-to-one nutritional advice

Light therapy (also available for staff)
Seasonal affective disorder is a type of depression that affects people during September to April. It is caused by a biochemical imbalance to the brain due to lack of sunlight. Light therapy uses a special box which emits a stronger light than ordinary light bulbs. Contact Hazel Wright for details.
More about light therapy sessions
Complementary therapies (also available to staff)
Our range of complementary therapies includes Indian head massage, aromatherapy, reflexology, hot stone massage, sports massage, reiki and homeopathy, all of which are designed to promote well-being of mind, body and spirit.


Complementary Therapy price list (word - 1mb)
Personal training (also available to staff)
The University gym now offers personal training to provide that bit of extra motivation to reach health and fitness goals. Cost is £15 students and £20 staff for a 50-60 minute session. More information from j.kean@tees.ac.uk
Health and well-being courses
We run short courses, covering various aspects of health.
For more information about our health and well-being courses

Dyslexia support provides an opportunity for dyslexic students to learn about managing dyslexia from a more holistic perspective. Contact Hazel Wright for details.
Group hypnotherapy for confidence and self-esteem can help in dealing with confidence, self-esteem and stress, as well as relaxation. Each session, lasting around 90 minutes, uses a state of deep relaxation that enables you to generate new behaviours and more constructive core beliefs. Contact Hazel Wright for details.
Mindfulness A six-week programme, held on Wednesday afternoons, to help you to respond positively to the inevitable stresses of life and will lessen anxiety and low mood.Contact student counsellor Genevieve Kerr for details.
Sexual health information and advice clinic (also available to staff) This clinic will be available fortnightly in the Well-being Centre, second floor of the Brittan building, from October 2012. Services will include, confidential one-to-one advice, information and support on sex, sexual health, contraception, sexual health screening and relational health issues, chlamydia screening, pregnancy testing, free condoms and referrals to other services. The drop-in sessions will be available from 5.00pm to 7.00pm fortnightly, starting 4 October. Contact Hazel Wrightfor details.
Volunteering opportunities For those interested in a career in health promotion or health improvement or a general interest in health and well-being and helping others, a variety of volunteering opportunities are available, such as gettinginvolved in organising and running our health promotion campaigns and activities and helping to promote our services. Giving your time can be very good for your well-being but volunteering is also a great way of gaining employability skills and experience. Contact Hazel Wright for details.
Cookery courses Benefit from learning some basic cookery skills and also how to make healthy, affordable meals - then take what you've cooked home with you at the end of each session. Contact Hazel Wright for details.
How to book For general queries contact studentwellbeing@tees.ac.uk for details.
Business of Well-being annual public lecture and seminar series (also available to staff)
The series will explore some of the philosophy and science behind the recent surge of interest in happiness and well-being. Latest research shows well-being is enhanced through a feeling of belonging and connectedness. This popular series will be open to all staff, students and members of the local community. Keep an eye out on Blackboard and the Teesside University website for dates and times.
Well-being Centre
The Well-being Centre is on Level 2 of the Brittan Building.
We offer a number of complementary therapies.