Our Vision for Well-being
"Health is created and lived by people within the settings of their everyday life; where they learn, work, play and love." (WHO, 1986 - Ottawa Charter for Health Promotion).
"A healthy university aspires to create a learning environment and organisational culture that enhances the health, well-being and sustainability of its' community and enables people to achieve their full potential."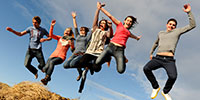 Health and well-being
Discover all the ways you can get fit, stay well and feel great.
Our vision at Teesside is to nurture the physical, social, psychological and spiritual well-being of our students and staff to enable them to acheive their full potential. We want students and staff to feel they area part of a university community, where they feel valued and supported.
We aim to achieve our vision by providing a variety of different services.
January 2015 Health Promotion campaign - Dry January
The University will be supporting Dry January 2015 and would like to encourage as many staff and students as possible to take part.
Alcohol Concern's Dry January is an annual campaign where they challenge people to give up alcohol for the 31 days of January.
The aim of the campaign is to start a new conversation about alcohol, to raise awareness of alcohol misuse - The challenge is to go booze free for 31 days
Possible benefits may include weight loss, saving money, feeling better, and you can also make a difference to the lives of those affected by alcohol by getting friends and family to sponsor you and become a Dry January fundraiser. You might just want to do it as a personal challenge or as a competition with your friends.
Whatever your reason for taking part, why not give it a go. You can and get signed up at the Dry January website where you will also find loads of useful information.
You can also follow Dry January on Facebook at www.facebook.com/DryJanuary or on Twitter @DryJanuary.
Below are some useful web-links and local services which can provide further information and support if needed:
Occupational health pages of the website - staff only
The University's student counselling team can be contacted through Student Services on 01642 342277 or counselling@tees.ac.uk with further information at the counselling pages of the University's website - students only
The closest walk-in centre to the University campus is at North Ormesby Health village, The Resolution Health Centre
Your own Doctor
Student health pages on the University website
Cancer research UK website - information about cancer and alcohol
Middlesbrough Recovering Together website
Positively Teesside
Here at Teesside we want you to be the best that you can be, whilst having the best time that you can have.
For advice and inspirational ideas click on the Positively Teesside link below, you can also check out our new mindfulness at Teesside University page on Facebook - search for Mindfulness at Teesside University.
Well-being Centre
Mental, physical and emotional health are important parts of your experience as a student or member of staff. The Well-being Centre is a friendly and relaxing place where you can attend drop-in sessions, short courses and workshops, have complementary therapy treatments or find out more about a particular health issue.
Additional well-being services include one-to-one nutritional advice, mini MOT health checks and access to a light-box for those who experience seasonal depression. For more information about the Well-being Centre email studentwellbeing@tees.ac.uk.

Student Centre
We're a close knit community and pride ourselves on the accessibility and sensitivity of our support services.
Advice and guidance can be provided from us in the Student Centre on the first floor of the Clarendon Building. Our services include help on a range of issues from applications, admissions and finance to careers and counselling.
Contact us on 01642 342277 or studenthelp@tees.ac.uk.
Mental health and counselling
For mental health and well-being related queries contact the counselling team on counselling@tees.ac.uk
You can find out more about mental health and well-being support and accessing the student counselling service at the information desk in the Student Centre, First Floor, Clarendon building.
Confidential services include
advice and support for students with mental health problems
support with course related issues
help to access community based support.
Silvercloud is an online self-help tool which is available to both students and staff. Find out more about Silvercloud
The Link
The Students' Union Link, based on the first floor of the SU Building, is open 10am to 4pm weekdays. Experienced and professional advisers offer free and totally independent support, with a number of academic and welfare issues.
Find out more
Five ways to well-being
Student health services
We can provide support and advice on health issues and we offer services to improve your well-being. Student health services
These are five evidence based ways to help you improve your mental wellbeing and we have endeavored to incorporate them into the services and activities we offer. Try to integrate them into your daily life, think of them as your five-a-day of mental wellbeing.
Learn more about the five ways to well-being
Sports membership scheme
It costs just £100 for a full year's membership for students and £120 for staff, which includes unlimited access to the gym and fitness classes, climbing wall, personal exercise programme, gym and climbing wall inductions, squash and badminton courts. You can also swim for free at the Neptune Centre swimming pool.
To join, or obtain further information, ask at the Brittan or Olympia building reception, or visit www.tees.ac.uk/sport. You can also join online.
For more information on the sports membership scheme contact sport@tees.ac.uk or call (01642) 342267.
We also offer a wide range of sports participation activities which can be enjoyed while studying at Teesside. The aim is to provide the best University experience as possible, help you make new friends and provide an opportunity to try new sports or activities. Activities include the Intra Mural Sports Leagues (seven-a-side football, badminton, mixed netball), outdoor activities, and sports taster sessions. For further information contact Pip Bell.
Multi-faith chaplaincy and pastoral service
The chaplaincy is a service for people of all faiths or none. It offers confidential, non-judgemental pastoral care and support to all staff and students within the University. The chaplain is available for personal conversations at mutually agreed times. You don't have to be religious to come to talk to him and it can be about any issue. The current chaplain is:
Rev Tessa Stephens
Email: t.stephens@tees.ac.uk , or telephone 01642 342708.
The chaplaincy office is located on the first floor of the Clarendon building, in the Student Centre. Visitors are welcome without an appointment as a message can be left at reception if a chaplain isn't available. They can also be contacted at chaplaincy@tees.ac.uk .
Occupational health (staff only)
The Occupational Health Service wish to provide a professional, confidential and supportive service to all employees of the University that aims to be as proactive as possible to prevent health issues arising, promote well-being and healthy lifestyles.
Further information about the occupational health service can be found here. You can also contact occupationalhealth@tees.ac.uk.
Health and safety
The University's health and safety and occupational health staff are based in the health and safety centre, which is on the ground floor of the Foster Building.Our health and safety team are here to ensure you are safe while on University premises. It is your responsibility to comply with the University's rules and regulations so you don't endanger yourself or anyone else. You must report all accidents to the University health and safety centre.
More about health and safety
What we offer
All services are available to students. Those available to staff are identified as such.
All services are free of charge except for the complementary therapies which range from £10 to £18 per treatment. Booking is required for all services. Sessions can last up to one hour.
Most services take place in the Well-being Centre, Second Floor, Brittan Building for Sport and Well-being. Others do take place in different venues across the University, with details available when specific services are advertised.
General health and well-being appointments
If you would like to discuss any physical or mental health and well-being issues, such as smoking, alcohol, weight management, physical activity or medical issues, 20 minute appointments are available with a qualified member of staff.
To book an appointment please use the following contact details:
For mental health and well-being related queries contact the counselling team on counselling@tees.ac.uk .
For physical health and well-being and lifestyle related queries contact Hazel Wright, Well-being Services Coordinator at h.wright@tees.ac.uk .
For disability related queries contact the disability team on disability@tees.ac.uk .
You may be:
provided with further information and contact details where needed
given further support or advice within the University if required
signposted or referred to support services outside of the University if required, for example, GP or other community.
These sessions are free of charge.
Health promotion events
Throughout the year, a number of health promotion events and campaigns will be held in the Well-being Centre and around campus.
meningitis awareness
sexual health awareness and chlamydia screening sessions
drug and alcohol awareness
stop smoking campaigns.
Mini MOTs (also available to staff)
This 15-minute assessment of your basic health includes your blood pressure, weight and body mass index. Book an appointment on 01642 342267.
More about Mini MOTs
One-to-one nutritional advice (also available to staff)
A qualified member of the fitness team will discuss your diet and nutrition, suggest changes and guide you through these changes to improve your health and potentially aid weight management, migraines or fatigue. More about one-to-one nutritional advice

Light therapy (also available for staff)
Seasonal affective disorder is a type of depression that affects people during September to April. It is caused by a biochemical imbalance to the brain due to lack of sunlight. Light therapy uses a special box which emits a stronger light than ordinary light bulbs. Contact Hazel Wright for details.
More about light therapy sessions
Complementary therapies (also available to staff)
The Well-being Centre offers a variety of low-cost, complementary therapies, delivered by self-employed complementary practitioners to students and staff. Practitioners promote the view that complementary therapies are valuable in that, they may contribute to the management of some health conditions and support a sense of well-being, alongside and in support of conventional medicine.
The University recognises the importance of offering everyone opportunities to explore a range of accessible self-care treatments in a relaxing and private environment.
Please note that while the University welcomes complementary practitioners to the campus and supports greater access to a range of wellbeing services, we are not in a position to verify the effectiveness of such treatments. However, we do follow a stringent system of recruitment for new practitioners and seek to promote choice and encourage individuals to make informed decisions regarding the management of their individual health needs.


Complementary Therapy price list (word - 1mb)
Personal training (also available to staff)
The University gym now offers personal training to provide that bit of extra motivation to reach health and fitness goals. Cost is £15 students and £20 staff for a 50-60 minute session. More information from h.wright@tees.ac.uk .
Health and well-being courses
We run short courses, covering various aspects of health.
For more information about our health and well-being courses

Well-being Centre
The Well-being Centre is on Level 2 of the Brittan Building.
We offer a number of complementary therapies.
---