The Faith and Reflection service is for everyone. It offers confidential, non-judgemental pastoral care and support to all staff and students within the University. We are available for personal conversations at mutually agreed times. You don't have to practise any particular faith to come to talk to us and it can be about any issue. We also offer a range of weekly activities and events throughout the year.
If you wish to speak to anyone regarding faith, belief or related matters please enquire at the Student Life Building reception or email studentlife@tees.ac.uk
Faith and belief advisers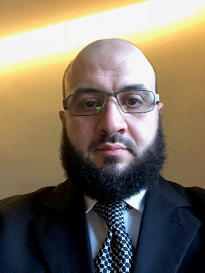 Imam Waleid Allam
My name is Waleid Allam and I have been working as an Imam in Middlesbrough since 1996 helping locals to deal with range of issues that faces them in the 21st century.
I am here to support the staff and students at Teesside University. If you need any faith and or spiritual advice I am happy to meet on campus or in Abu Bakr Mosque.
---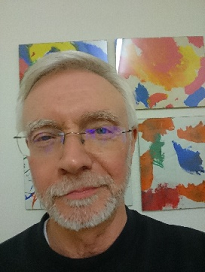 John Adams
I've been following Buddhist practice since I was 20 and I'm 67 now so I have quite a few years of experience. I'm not a teacher but I have been a member of Buddhist groups for most of my adult life and I am well used to practising and working with others. There is a wealth of support and encouragement to be found within the members of meditation groups to help us keep going in our daily lives.
In my practice I have been through the various stages/cycles of enthusiasm, determination, boredom, disappointment, getting back up to go again, and I'm still here. In a way it is like any long-term relationship - the novelty wears off after a while but, as with the best of them, the love and commitment grows into a quiet daily joy (mixed with the odd flashes of ouch).
Meditation and mindfulness practice in everyday activities, together with the ethical guidelines of the Buddhist Precepts (trying to see what's good to do today and what's good not to do today) have helped me a great deal in my life. I'm not interested in making people into Buddhists, only in the practice, which can be done whether people are members of particular religions or none at all. Because it has helped me I am happy to share that experience with others who may at times be facing the inevitable ups and downs we all meet in life.
---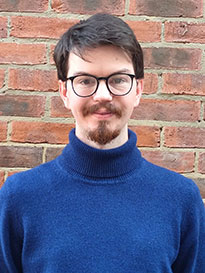 James Cawdell
Hello, welcome to the university faith advisors team. I'm James Cawdell and I am the Curate at St Barnabas on Linthorpe road, only a 10 minute walk from the university campus. St Barnabas is a lively, welcoming Anglican church with an active student's ministry. We have services at 9.30, 11.15 and 18.30 on Sundays and 9.30 on a Wednesday. You'll be welcomed at any of these if you want to explore Christianity, grow as a Christian or just want a cup of coffee! You can find us online at st-barnabas.net. I'm also available for any students or staff members who would like to meet for a drink on campus or anywhere around Middlesbrough.
---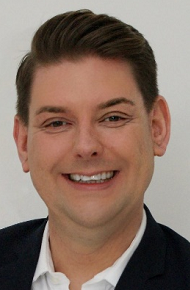 Minister Richard Cuthbert
I was ordained as a Spiritualists' National Union (SNU) Minister in March 2019, and have been a Spiritualist for over 20 years.
Spiritualism is an officially recognised religion, with its own Churches and educational centres. It embodies the main ideas of many other religions; that there is life after death, immortality and the existence of a God. The main difference between Spiritualism and other religions is that we accept that through the faculty of mediumship that it is possible to prove that individuals survive physical death. We consider those who are Mediums to be able to communicate with those who have physically died, providing conclusive evidence of the continuous existence of the human soul.
In my capacity as a Minister I'm able to carry out official services such as weddings and funerals, and am registered with departments of the UK Government Home Office to carry out chaplaincy duties in prisons as well as hospitals when required. As well as supporting those within my own Spiritualist community in my capacity as a Minister, and promoting Spiritualism, I am keen within my Faith Advisor role at the University to support individuals, whether Spiritualists or not, who may be curious about Spiritualism and aspects of it, and those who may wish to explore their own spirituality. This will also perhaps give me the opportunity to help others understand that Spiritualism is as much about life before death is it is life after death!
I've worked at Teesside University since 2008, so know the student and staff community well, and look forward to supporting others in this new capacity within the University.
---
Lindsey Goodhew
Hello! And welcome to the Faith and Reflection Service at Teesside University. I am the Associate Vicar of St Barnabas Church Middlesbrough - a short walk from the University campus along the Linthorpe Road. St Barnabas is a lively and welcoming Anglican Church in the Church of England. We have many students at St Barnabas across our three Sunday Services and you will be warmly welcomed whether you are just exploring faith and asking questions, or have been a Christian for many years. You can find out more about us at st-barnabas.net. I am available to chat to both students and staff and would be pleased to meet up over coffee on campus or elsewhere.
---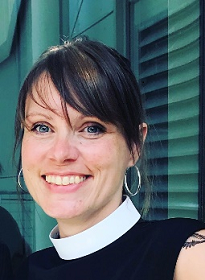 Charity Hamilton
I came to Middlesbrough as a Methodist minister in January 2019 with particular responsibility for Trinity Church on Whinney Banks, and the town centre ministry based out of Linthorpe Road Methodist Church and including the university. I'm a trustee of Boro Angels who you might've seen out and about on night out in town.
Prior to coming to Middlesbrough I was part of the Methodist Church's regional Learning Network as a learning officer. Before that appointment I was a circuit minister in inner-city Leeds. I trained for ministry at Wesley College, Bristol after spending a number of years as a community worker in areas of multiple deprivation and working in university chaplaincy.
I grew up in Cumbria & the Lake District and so I really enjoy spending time outdoors, I even like to sunrise swim at Saltburn any time of the year! I like cooking for others and spending time with people, and when I'm on my own I can be found with my head in a book! I'm always up for grabbing a cuppa with anyone and offering a listening ear or having a chat.
---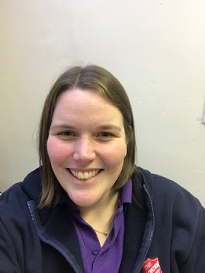 Naomi Kelly
I am the Officer at Middlesbrough Citadel Salvation Army (next door to the Dickens) my days are very varied. I run a drop in service for those in need in the area, support the other activities we have at our church including a café and charity shop and enjoy leading Sunday worship at 10.30am every week.
On Campus, I can often be found with my therapy dog, Brengle the gorgeous Golden Retriever, hanging about and chatting with students and staff. I'm a talkative and relaxed person who is always up for a cuppa and a chat. Although...a cup of juice as I don't actually drink tea or coffee! I can often be spotted in the Uni gym and love playing netball.
---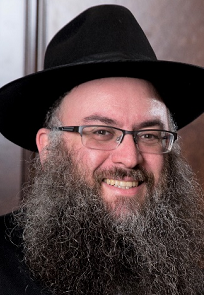 Rabbi Aaron Lipsey
As well as being our Jewish Faith Adviser, Rabbi Aaron Lipsey is the Rabbi of the United Hebrew Congregation of Newcastle and Jewish Chaplain for Durham, Newcastle and Northumbria Universities. He is married to Miriam and they have five children.
In 2013, in a moment of madness Aaron enrolled on a Masters degree in Religions and Theology at the University of Manchester and has spent the last four years explaining to all who will listen how the universities in the North East are great places to study despite not choosing to do so himself. He graduated with a distinction in February 2016.
Aaron says that eighteen years of marriage (and kids; never forget the kids) have taught him that some end of life issues start much earlier than you expect and can continue for much longer than any sane man would possibly wish for.
His claim to fame is having a name that sounds like a designer brand and for being the only plane-spotting Rabbi in the North East. (That really is much more cool and exciting than you might otherwise think...)
---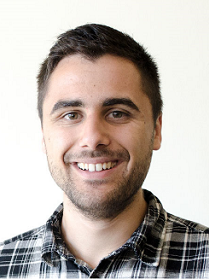 Gavin Rodgers
I am part of the leadership team at Jubilee Church Teesside a large lively all ages Church based in central Middlesbrough which is part of Christ Central Churches and the Evangelical Alliance. I am local to the North East and have been part of Jubilee Church Teesside for 8 years since moving across from Darlington where I was born. I became a Christian at the age of 16 after being invited to a church youth group by one of my friends, this radically changed my view on Christianity. I am extremely passionate about students, young people and Teesside. I work as part time for Jubilee Church where I oversee youth and student work and I also work at a local Sixth Form College giving careers advice and guidance. As a careers advisor I regularly support young people and assist them in making some of the bigger life decisions relating to their future, this is something which I find extremely exciting. In my spare time, I love spending time with my wife and my two young children as well as being huge fan of Liverpool FC.
---
Naaila Shabir
Hello, My name is Naaila Shabir, I am one of the Associate Faith Adviser volunteers. I was born in London and moved to Middlesbrough when I was 11 years old and have lived here since. I have worked in different areas and worked closely with many organisations and charities within the North East. I currently volunteer for an Islamic Organisation in the North East called Islamic Diversity Centre. I have been a part of the charity for over 5 years. The charity work in many areas of education to Educate, Engage and Empower people to learn more about the Islamic Faith. This has been through many different forms. We host events, classes, and exhibitions to challenge stereotypes, remove misconceptions and teach what the true meaning of Islam is.
I am also a big believer in Inter-Faith work and am also part of the Middlesbrough Inter-Faith Network and a member of the Middlesbrough SACRE. I love hosting events to encourage cross community dialogues. My role at the university is to be available should any students or staff need support or assistance regarding faith. As mentioned before I love talking about my religion so if you have any questions or want to clarify anything then please do get in touch. We have plenty of literature should anyone want any and plenty of copies of the Quran in English if anyone is interested.
---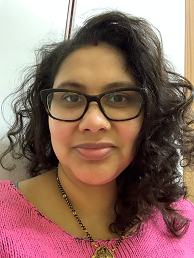 Geetarti Sharma
Hi, I'm Geetarti Sharma and I am a British Indian Hindu Punjabi Bhramin (I know it's a bit of a mouth full!). I am a first generation British Indian, so I was born here after my parents immigrated to the UK from India. It would have been very easy for me to not connect with my faith being in the UK, but luckily for me, my parents and community have always been a huge support and guide. Being a Hindu is a source of immense pride for me. It brings me a lot of peace and has always been able to give me strength through every aspect of my life. Now that I have kids of my own, I know my faith will help me guide them on their journeys and hope help them to become good human beings.