Students' Union
You automatically become a member of the Teesside University Students' Union (TUSU) when you enrol on a course here.
You don't pay anything in advance, you don't need to complete forms and you don't need a membership card.
Students' Union Officers 2020/21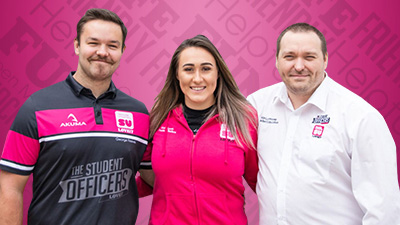 From left to right: George Reeves (President Activities), Elisha Lycett (President Welfare), Alan Lofthouse (President Education)
TUSU has a very close relationship with the University but operates independently. It is completely student led with three Student Officers elected each year to oversee how it's run and represents students to the University and external bodies.
No matter your age, background or how much time you can spare, TUSU has something for you.
It can provide free, confidential advice and support from experts on housing, money, your course, personal problems and more.
It can help you get more from student life, have fun and make new friends through sports clubs, societies and day/ evening events.
It provides safe, inclusive spaces for ALL students to meet, socialise, hold events and study.
It helps you find part-time work and improve your long term employability.
More about Teesside University Students' Union