News
'Make the most of apprenticeship opportunity'
Degree apprenticeships help businesses retain and attract talent, staff from a multinational pharmaceutical company have told North-East employers.
More information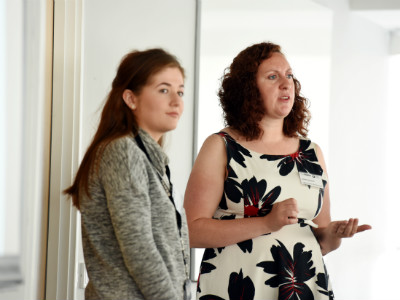 Abby Dixon (left) and Donna Jacques from Fujifilm Diosynth Technologies speaking at the degree apprenticeship event at Teesside University.
---
More than 50 business leaders from across the region heard how Billingham-based Fujifilm Diosynyth Biotechnologies was using degree apprenticeships to upskill its workforce.

Donna Jacques, Research and Development Systems Manager at Fujifilm Diosynth, was speaking at a special event held at Teesside University to give employers an insight into degree apprenticeships in the science and engineering sectors.

Since April, all businesses with a wage bill of more than £3 million are required to invest in apprenticeships by paying the apprenticeship levy. Businesses of all sizes, levy payers and non-levy payers, can access these funds to train and develop their employees.

Teesside University has developed a range of BSc/BEng (Hons) degree apprenticeships covering a variety of professions, including Lab Scientist (Biological Sciences), Control and Technical Support Engineer, Embedded Electronic Systems Design Engineer, Electrical/Electronic Design Engineer, Manufacturing Engineer, Product Design and Development Engineer as well as the Chartered Manager and Digital and Technology Solutions (Web Engineering) Degree Apprenticeship options.

The University also offers the Health (Assistant Practitioner) Foundation Degree pathway. More higher and degree apprenticeships are also in the process of being developed.

Donna told the event how Teesside University was able to tailor the apprenticeship to Fujifilm Diosynth's requirements in as little as six weeks.

She said: 'We occupy quite a niche market but Teesside University worked with us from the beginning and was very flexible in delivering what we wanted.

'Having apprentices work alongside studying means that they are learning new behavioural techniques as well as their academic subjects.

'One of our problems has been that we often have to recruit from outside of the area, and there can be a lot of competition.

'Having degree apprenticeships at Teesside University means that we can grow our workforce from within Teesside which means we can retain staff a lot easier.'

Former Stockton Sixth Form College student Abby Dixon, 19, joined Fujifilm Diosynth as a Research Scientist and is enrolled on the Laboratory Scientist Degree Apprenticeship. The apprenticeship involves spending one day a week at University, alongside workplace learning, and after five years she will gain a BSc (Hons) Biological Sciences degree.

She said: 'After leaving college, I really wanted to go straight into work and learn skills on the job rather than do a traditional degree.

'One of the main benefits of the apprenticeship to me is that they train you up from scratch and you are a product of that company. You know you are being taught exactly how they want you to be taught.

'I would 100% recommend this course, there are so many benefits.'

At the event, Teesside University also launched its Advanced Entry Degree Apprenticeship (AdEDA) scheme in science, engineering and design which offers employer members a range of benefits, including University support in promoting degree apprenticeship vacancies to school or college leavers.

It also offers access to Teesside University's current students who are interested in joining a degree apprenticeship, and UK-wide promotion of members' organisations to tens of thousands of potential STEM degree apprentices who apply for University places through the UCAS system each year.

By joining the AdEDA scheme, employers can select apprentices with proven university-level academic ability, and reduce the degree apprenticeship fee by up to 50%.

Dr Jennifer Thompson, Associate Dean (Enterprise and Business Engagement) in the School of Science, Engineering & Design, said: 'When we talk about apprenticeships we often think about young recruits, it's actually much more than that, it's also about upskilling your employees and about retention of talent in the Tees Valley.

'Here at Teesside University we want to help you make the most of this opportunity.'

13 July 2017
In the News
Make the most of apprenticeship opportunity
North East Connected (Web)14/07/2017
Donna Jacques, Research and Development Systems Manager at Fujifilm Diosynth, was speaking at a special event held at Teesside University to give employers an insight into degree apprenticeships.