Alumni & friends
When you graduate you join our alumni family of more than 70,000 living in over 100 different countries.
A postgraduate degree at Teesside is worth on average £200,000 extra in lifetime earnings.
Latest news

Iconic building starts to take shape
With the groundwork and foundations now complete, the next phase of building Teesside University's £20m flagship teaching development is now underway.
---
The Graduate magazine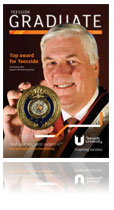 Teesside's alumni magazine keeps you in touch with the University and your fellow graduates.
Welcome to Teesside University Alumni Association
Find out more about the alumni association and what we offer.
We value our graduates and are proud of your achievements.
Join Teesside's Alumni Association
Facebook

Become a fan of Teesside Alumni Association - join us on Facebook.
Facebook
Twitter

For latest news and events from Teesside, follow us on Twitter.
Twitter
LinkedIn

Connect with us on LinkedIn
LinkedIn
We are looking for graduates to feature in our publications and online so why not shout about your success? It is a great way to get some publicity and to give back to your University by inspiring our next generation of students. Plus, you will receive an exclusive Teesside Alumni Champion t-shirt.
Take part | View past examples
Postgraduate study
Let's talk about you and where you want to go.
More about postgraduate study
---
A student says...
Gemma was inspired to study Physiotherapy when she saw how the profession helped her champion jockey father to recover after races.
Gemma Darley
BSc (Hons) Physiotherapy