Alumni & friends
When you graduate you join our alumni family of more than 100,000 alumni as part of a larger global community of 'Teesside' graduates and ambassadors living in over 100 different countries.
A postgraduate degree is worth on average £200,000 extra in lifetime earnings.
Latest news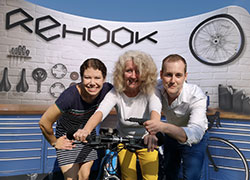 Teesside University graduate has Dragon's Den hooked
An invention by Teesside University graduate Wayne Taylor impressed television's toughest business panel.
---
The Graduate magazine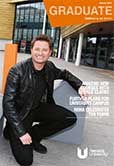 Teesside's alumni magazine keeps you in touch with the University and your fellow graduates.
Welcome to Teesside University Alumni Association
Find out more about the alumni association and what we offer.
We value our graduates and are proud of your achievements.
Join Teesside's Alumni Association
Facebook

Become a fan of Teesside Alumni Association - join us on Facebook.
Facebook
Twitter

For latest news and events from Teesside, follow us on Twitter.
Twitter
LinkedIn

Connect with us on LinkedIn
LinkedIn
We are looking for graduates to feature in our publications and online so why not shout about your success? It is a great way to get some publicity and to give back to your University by inspiring our next generation of students. Plus, you will receive an exclusive Teesside Alumni Champion t-shirt.
Take part | View past examples
Postgraduate study
Let's talk about you and where you want to go.
More about postgraduate study
---
LinkedIn Jobs
Leverage the world's largest professional network to connect with opportunity. Use LinkedIn Jobs to harness the power of your network and get hired. LinkedIn Jobs surfaces insights such as whom you know at a company, providing you an edge in your job search.