When you arrive
International students rank us in the top three in the UK for average satisfaction with support (International Student Barometer Autumn 2016, 182 institutions globally, 42 in the UK)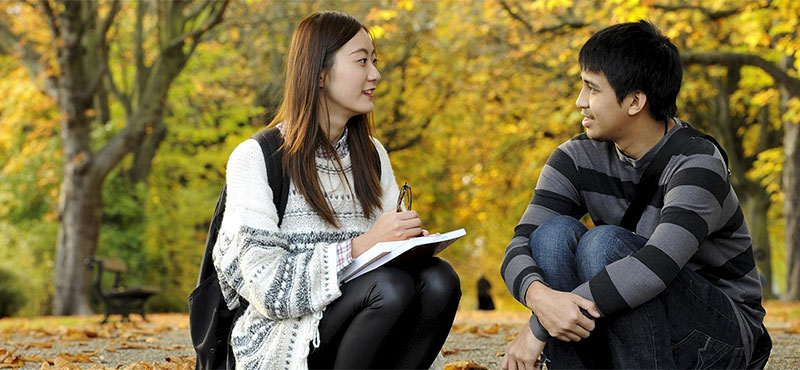 At the airport
Make sure you are well prepared and have all your documents ready, so that you can move through UK Border checks quickly and easily and have a good experience when you arrive.
The UK Border Force have created a 10 top tips document which we recommend you read. You can download it here. There is also a short video which will help you with general advice about arriving at the airport in the UK.
Here is some additional advice which will help to make your arrival in the airport simple and stress-free.
- When you complete your landing card, write an address where you can be easily contacted while you are in the UK.
- Keep all your documents in your hand luggage and have it ready to present to a Border Force officer before you arrive at the Passport Control area. You will need to present paper copies - electronic copies are not acceptable.

First year students will need:

• Admission/Offer/CAS letter(s).
• Confirmation of payment/receipts for course and accommodation OR documentary evidence that you have sufficient funds to pay for these.

Returning students will need:

• Student ID Card or Admission/Offer/CAS letter(s).
• Biometric Residence Permits (BRPs) or evidence that you have continuing leave to remain as a student. Leave to remain will normally be indicated on your visa; but if this is endorsed in a passport that has now expired, you must also bring your old passport with you.

All returning students are advised to check their email accounts prior to travelling back to the United Kingdom for messages from the Home Office. If you have received email notification that your Student leave has been cancelled/postponed, you are strongly advised not to travel and you must contact your nearest British Diplomatic mission immediately for help.
Please remember- even if you have arranged our free airport pick-up service, you will not be able to meet the representative from Teesside University until you have successfully passed through Passport Control and collected your luggage. It is very important that you read the above advice and make sure you are organised and prepared for arrival at the airport by yourself.
Welcome and orientation event
The welcome and orientation event provides international students with an opportunity to find out more about what it's like to live and study in the UK. It's a chance to meet other students from all over the world and will help you organise some of the things that are a priority for international students when you first arrive at Teesside.
The orientation event for students starting in September 2017 takes place on 16 September 2017. Please arrange your travel to ensure you arrive in time to participate.
We will post further details of the orientation programme here on our website closer to the date.
Police registration
You may need to register with the police if you come to the UK for longer than 6 months, extend your current leave or switch to a different visa. You'll be told if you need to register with the police on one of the following documents
- your entry visa vignette (sticker in your passport), if you're travelling to the UK
- the Home Office letter that approved your application for leave

Who needs to register with the police?
You may be told to register with the police if all the following apply:
• you're 16 or older
• your visa or immigration application is for longer than 6 months
• your visa or immigration application is not exempt from the police registration requirement
• you've been told to register on your entry visa vignette or Home Office letter that approved your application for leave
• you're from one of the countries on the list below:

Afghanistan, Algeria, Argentina, Armenia, Azerbaijan, Bahrain, Belarus, Bolivia, Brazil, China, Colombia, Cuba, Egypt, Georgia, Iran, Iraq, Israel, Jordan, Kazakhstan, Kuwait, Kyrgyzstan, Lebanon, Libya, Moldova, Morocco, North Korea, Oman, Palestine, Peru, Qatar, Russia, Saudi Arabia, Sudan, Syria, Tajikistan, Tunisia, Turkey, Turkmenistan, United Arab Emirates, Ukraine, Uzbekistan, Yemen.
When should I register?
You must register within 7 days of arriving in the UK or, if your leave has been extended, within 7 days of getting your BRP card.

If you do not register:
• any future immigration applications will consider that you did not register.
• your current leave can be shortened.

How much does it cost to register?
It currently costs £34.

Where can I register/ update my registration?
You can normally make appointments to register with Cleveland Police during the welcome and orientation event. Alternatively you can visit the information desk in Student Services to make an appointment. Cleveland Police will come into the University to see you on a nominated date, you will be given a specific time and date on which you should attend. Appointments will usually take place in the Student Services Department.

Renewing your registration is free of charge.

Failure to register with the police, if required to do so, is a criminal offence and could lead to prosecution. You should carry your Police Registration Certificate at all times and it must be produced to a police officer or an immigration officer on request.
Which documents do I need to be able to register?

You'll need to take:
• 2 recent passport size colour photographs
• your passport with your entry clearance vignette
• your BRP card
• the Home Office letter that approved your application for leave
• Confirmation of your address in the UK
• University enrolment letter (you can print this from your e-vision account)

Opening a UK bank account
It is important to open a bank account in the UK as soon as possible so that you are able to access your funds to pay for day to day expenses. It will also be useful to have funds held within a UK bank account should at any point in the future you need to apply to extend your visa or switch into another immigration category. In order to do this you will need to take certain information along to the bank of your choice. For bank account appointments you will need:
• Passport including entry clearance vignette
• Biometric Residence Permit (BRP card)
• A letter of introduction showing your UK student details (bank letter), including the name of the UK Bank that you wish to use. This can be printed off from your University e-Vision account after you have completed enrolment.
Registering with a doctor (general practitioner)
There will be an opportunity to register with a local doctor (we call this a general practitioner or 'GP') at the welcome and orientation event. However, you can also do this directly with a GP practice yourself once you are here. As soon as you have a UK address you can use the NHS website to find the closest GP to where you live. When you have decided which GP you would like to register with, you will need to go there in person and complete the registration process. Once you are registered with a GP, you will be able to access NHS Secondary Healthcare Services, although there will be services that you need to pay for, so always check.